SNB Franc Shock Reverberates in Negative Rates, U.S. Critics
Swiss National Bank President Thomas Jordan is finding it's hard to revert to normal monetary policy without risking an unwanted appreciation of the franc.
Five years since Jordan jolted markets by scrapping a cap on the franc and introducing negative interest rates, the currency's strength means there's little chance he'll be able to end the controversial policy any time soon. At home, the subzero rates are frustrating banks, while the SNB's interventions in currency markets have put Switzerland in the crosshairs of U.S. authorities.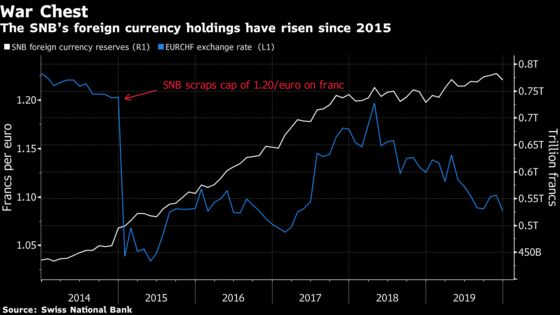 The unexpected decision -- five years ago this week -- sent global financial markets into a tailspin. While at home Jordan was hailed for taking a brave step, the situation has since shifted. In addition to the financial industry, labor unions say the SNB's -0.75% rate is blowing a hole in social funding.
"When you try and be very critical, you conclude -- what else could they have done?" said Gianluigi Mandruzzato, an economist at EFG Asset Management Switzerland. "After five years, we're still there with a prospect of keeping rates at rock bottom for some years."
Yet even with negative rates plus a pledge to intervene in currency markets, the franc is at its highest since April 2017 versus the euro.
Data suggest the SNB stepped up interventions in the latter half of last year, prompting the U.S. Treasury to put Switzerland back on its currency watch list this week. The SNB responded on Tuesday by saying its interventions were designed only to offset the ill effects of too strong a currency and not to give the country a competitive edge.
Economists surveyed by Bloomberg expect the SNB's deposit rate to remain at a record low for the rest of this year.
The dam of Swiss public opinion would probably burst if the man or woman on the street saw their bank account hit with negative rates. So far that hasn't happened, though banks are increasingly targeting the cash holdings of the rich.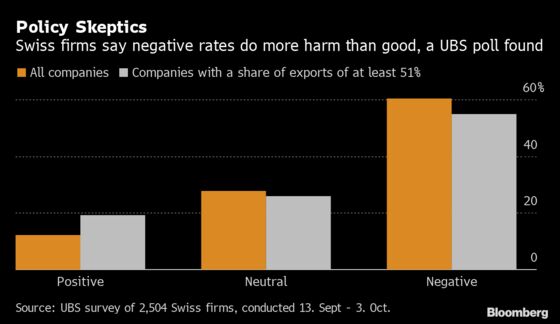 As was the case five years ago, Switzerland's fate is tied to that of the global economy. The franc cap was scrapped in anticipation of European Central Bank quantitative easing, and the absence of any meaningful reversal in the euro area's fortunes leaves the SNB with no room to move.
Unilateral SNB tightening could add to upward pressure on the currency, which would depress prices, and hurt exporters and the economy.
The central bank said in early 2015 that the franc would depreciate over time, but hasn't happened. In 2018, it briefly touched 1.20 francs per euro -- the level of the cap -- but has since appreciated.
"I fault the ECB," said Thomas Matter, chairman of Helvetische Bank and member of parliament for the Swiss People's Party, who proposed some SNB profits be used to top up the public old-age insurance. "The SNB cannot scrap the negative rates. That would generate huge appreciation pressure."