Swiss Franc's Pummeling From Reflation Trade Eases SNB Headache
(Bloomberg) -- The Swiss franc has become the latest victim of the reflation trade, as investors dumped haven assets to position themselves for a global economic rebound and higher prices.
The franc weakened as much as 0.5% against the euro to hit the lowest since October 2019. Against the dollar, it fell to levels last seen in December. The currency's sharp slide comes as bond yields climbed the world over and copper hit a multi-year high.
The move will be welcomed by the Swiss National Bank, which has deployed negative rates and spent hundreds of billions of francs on foreign exchange interventions to curb its appeal and fight off deflation. The SNB joins the ranks of central banks worldwide that are being tested by rising bond yields that threaten to tighten financial conditions.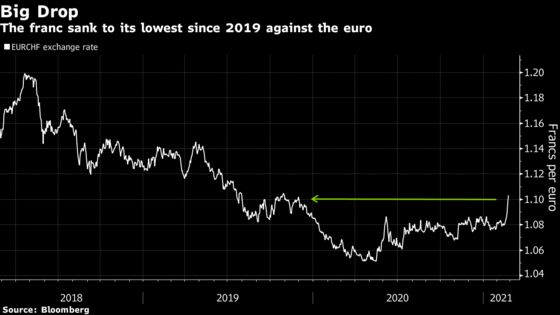 "After a few years of being very difficult to trade, the path for a weaker franc looks pretty clear," said Jordan Rochester, a strategist at Nomura International Plc.
Rochester sees the franc weakening to 1.13 per euro by year-end. "The move in the cross is worth looking at and does remind me of the burst we had in 2017/18 that set its momentum higher," he added.
BNY Mellon statistics showed strong selling of the Swiss franc in recent months, while Swiss investors appear to be buying foreign assets. The SNB's intervention activity has tapered off, data suggest.
Hedge funds joined real money in selling the currency this week, mainly versus the euro and the yen, according to two traders in Europe who asked not to be identified because they aren't authorized to speak publicly. The franc's weakness appears to have coincided with the start of equity trading in Europe and the U.S.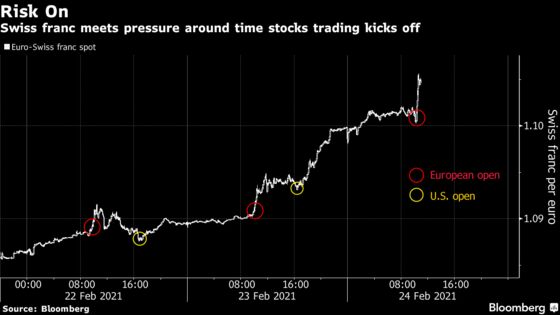 Switzerland got labeled a currency manipulator by the U.S. late last year. SNB officials have rejected the moniker and said they'll continue with their negative rates and interventions, if needed.
"The franc does not have much safe haven attractiveness, with SNB keeping an aggressive policy mix including currency intervention whenever needed," said Manuel Oliveri, FX strategist at Credit Agricole CIB, which sees the euro-franc pair extending gains to 1.15. "From that angle one should not expect crosses such as EUR/CHF to face big downside risks, even if risk sentiment were to deteriorate."