Swiss Investment Drop Takes Shine Off Economy's Year-End Rebound
(Bloomberg) -- The Swiss economy returned to growth in the final three months of 2018, though a drop in investment served as a sign of caution about the global economic outlook.
The 0.2 percent expansion marked a rebound from a third-quarter contraction but missed the 0.4 percent forecast of economists. Investment in equipment tumbled 1.1 percent, marking the first consecutive quarterly decline since 2012, and a separate economic barometer fell to the lowest since 2015.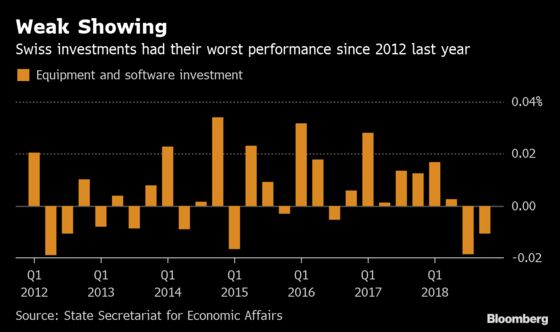 With the U.S.-China trade dispute gnawing at sentiment, the global economy has lost momentum, with Europe looking particularly weak. Italy sank into recession at the end of last year, and Germany only narrowly avoided that fate. Since then, euro-area economic confidence has continued to weaken, and China's economy has shown only limited signs of stabilization.
Switzerland's export-reliant economy is exposed to the downturn, though low unemployment and manufacturing-sector figures indicate it's not headed for an outright slump.
| Swiss GDP | 3Q 2018 | 4Q 2018 |
| --- | --- | --- |
| Household consumption | 0.1 | 0.3 |
| Government consumption | -0.1 | 0.1 |
| Equipment & software investment | -1.9 | -1.1 |
| Exports of goods excl. valuables | -4.1 | 5.6 |
| Imports of goods excl. valuables | -2.7 | 0.6 |
| Gross domestic product | -0.3 | 0.2 |
Still, Swiss industry expects weaker order growth this year due to cooling demand in its biggest markets. That will curb economic growth, which the Swiss National Bank forecasts will slow to about 1.5 percent this year.
There's a risk of an even bigger downturn. In an interview last month, SNB President Thomas Jordan cited dangers including "political mistakes" in the trade dispute, Brexit or political tensions in Europe.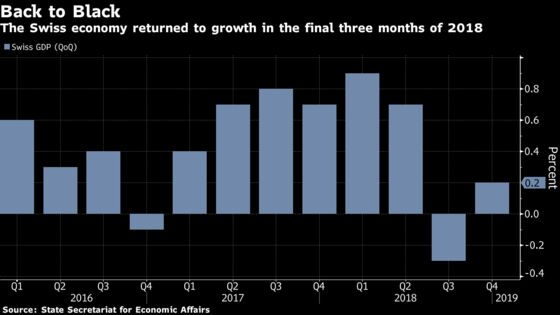 Economic and political turmoil abroad could also prove a headache for the SNB, which already has the lowest interest rates of any major central bank. A no-deal Brexit or other surprise events have the potential to spur investors' flight to the safety of the franc, causing it to appreciate and crimping exports.