Swiss Economy Poised to Gain Pace After Slump at Start of Year
The Swiss economy is recovering quickly after restrictions to curb the spread of Covid-19 hit the service sector and consumption at the start of the year.
Gross domestic product contracted 0.5% in the first quarter, a deeper slump than economists anticipated. But manufacturing and service sector data for May showed an upsurge in activity -- the latest in a string of figures confirming Swiss National Bank President Thomas Jordan's view of cautious optimism for the economy.
"The bounceback in Swiss manufacturing is continuing at such speed that there are widespread signs of scarcity," the Credit Suisse and procure.ch said. While still below the manufacturing-sector index, the rally in services also "picked up speed."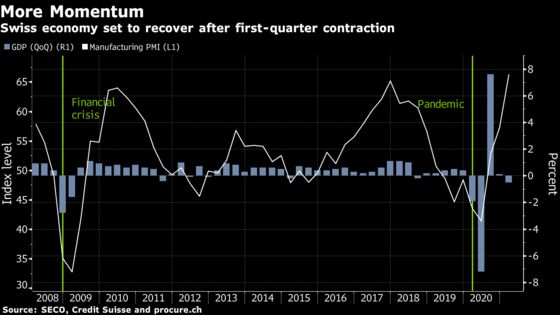 Switzerland -- like the neighboring euro zone, which did slide into a double-dip recession -- had a slow start to vaccinations that left the economy exposed to resurgent infections as the year began.
The signs are that the nation is now on the path to recovery with inoculations increasing. It allowed restaurants to resume serving guests indoors as of this week, and cinemas and theaters can host bigger crowds.
In the meantime, furlough programs have kept a lid on joblessness, while foreign trade, including exports of pharmaceuticals products, has helped support the economy.
The GDP data showed a slump in accommodation, food services, retail, and arts entertainment and recreation in the first quarter. They were all areas where the government imposed social distancing restrictions to curb the virus.
However, industry "grew markedly" and helped offset some of the weakness in services, the State Secretariat for Economic Affairs said.
A separate release on Tuesday showed a strong rise in Swiss retail sales in April, not least due to the weak prior-year figure.