Swiss Covid Booster Delay Could Hamper Strong Economic Momentum
Switzerland faces the prospect of another difficult winter, courtesy of a rapidly strengthening currency, a slow rollout of booster shots and an exponential rise in Covid-19 cases that could trigger new restrictions on activity. 
Gross domestic product grew more than expected in the third quarter, but the pace of expansion could cool considerably if the wave of infections that's already forced neighboring Austria into a lockdown isn't brought under control or the strong currency dampens momentum.    
The haven franc has already breached the 1.05 per euro market traders considered a key line in the sand amid concerns about a new variant of the coronavirus. It stood at 1.045 per euro at 10:00 a.m. in Zurich. 
To top it all off, the Swiss government is only now beginning to make vaccine boosters widely available and Covid-skeptics have triggered a national vote on the use of vaccine certificates designed to stave off lockdowns. Torpedoing the passes could hamper international travel and scupper some governmental income support, officials have warned.  
"It doesn't look good," said David Marmet, an economist at Zuercher Kantonalbank. "You've got to expect something else will be announced and that it will dampen growth."
The irony is that in economic terms, Switzerland has mastered the pandemic relatively well, with no big rise in unemployment or bankruptcies. Manufacturing activity is strong and the KOF economic barometer is running above its long-term average.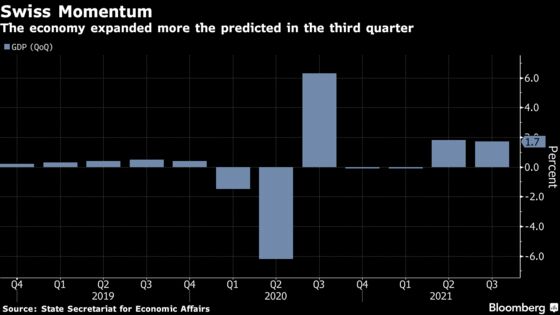 Data on Friday showed gross domestic product increased 1.7% in the three months through end-September, with the accommodation and food services segment surging by an eye-watering 110.6%. 
Output was more than 1% above its pre-pandemic level in the third quarter, the State Secretariat for Economic Affairs said. That's in contrast with neighboring Germany, which has yet to fully recover from the drop in output.   
But despite being one of the world's wealthiest countries with a top-notch healthcare system, Switzerland's vaccination rate lags much of Western Europe. The government has declined to enact any new national measures to curb infections, possibly because citizens are about to head to the polls. 
Instead, cantonal officials got urged to take steps such as reinforcing mask wearing. 
Sunday's vote has been preceded by regular public demonstrations by opponents of the government's policies. A poll suggest voters won't scupper the passes showing someone has been vaccinated against, recovered from or tested negative for Covid-19. But the sizable opposition of nearly 40% revealed by the survey is evidence of citizens' frustration. 
"In the short term, vaccinations won't be enough to slow the rise in infections and hospitalizations," Tanja Stadler, a professor at the Swiss Federal Institute of Technology who also leads the scientific task force advising the government, said at a press conference this week. "Once again we're at a point in this pandemic where how we behave plays a big role."