Swiss Economy's Virus Hit Looks Tame Next to Its Neighbors
(Bloomberg) -- Switzerland took a smaller economic hit than many of its neighbors during the coronavirus restrictions thanks to a less severe lockdown and growth in the pharmaceutical industry.
Data Thursday showed gross domestic product fell 8.2% in the second quarter, the most since at least 1980, but less than the 9.7% in Germany and the double-digit slumps in France and Italy. It was also smaller than the 9% forecast by economists.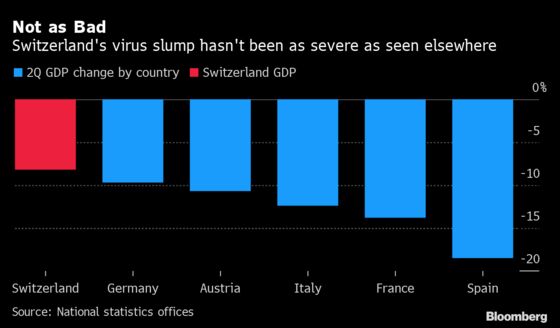 Switzerland's downturn was partly limited by a softer restrictions during the height of the virus -- though restaurants and schools closed and gatherings were limited -- as well as less reliance on tourism. Within manufacturing, there was growth in the pharmaceutical industry, which includes drug giants Roche Holding AG and Novartis AG.
Even officials said the contraction looks "relatively mild in comparison with other countries."
Still, Switzerland is in a deep recession, with consumer spending down 8.6% in the second quarter, and equipment investment plunging almost 12%. Manufacturing shrank 9%. The economy is forecast to contract roughly 6% this year.
There's also a risk that the situation could worsen. As in many European countries, Covid-19 infections in Switzerland have been rising again, and officials in Zurich this week announced a clampdown on large gatherings and now require shoppers to wear masks.
The second-quarter data echo the economic pain that's been felt around the world during the crisis. Governments tried to limit the damage with huge aid packages, and the big question now is the sustainability of the recovery and the outlook for unemployment.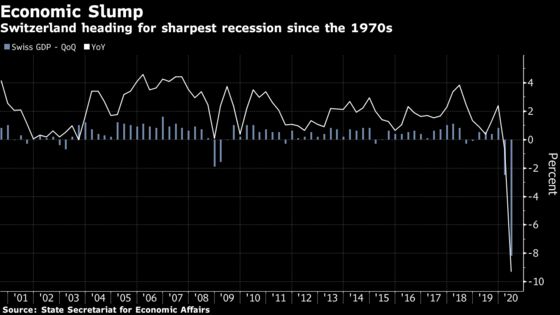 Machine industry group Swissmem warned this week that there might be "significant" job cuts in the sector in the next 12 months. There is "little room for optimism," it said.
Switzerland's relatively better performance means demand for government support from companies and workers has been lower than anticipated. While some countries are dealing with huge blowouts in their finances, Credit Suisse Group AG forecasts that Switzerland's budget deficit for 2020 will come in much smaller than Finance Minister Ueli Maurer's estimate of more than 30 billion francs ($33 billion).
With interest rates already at -0.75%, Switzerland's central bank didn't cut them this year in response to the virus, though it did step up currency interventions to slow the franc's appreciation.