Swiss Defy Currency Gravity as ECB Cut Stays Unanswered
Switzerland's central bank is once again challenging the forces of gravity in the foreign exchange market.
The Swiss National Bank held its sub-zero benchmark interest rate unchanged this year despite a reduction in the euro area, as it judged gains in the franc as tolerable rather than warranting a mirror response. That raises the prospect that the difference in rates between the two jurisdictions might have become less relevant to the value of their currencies.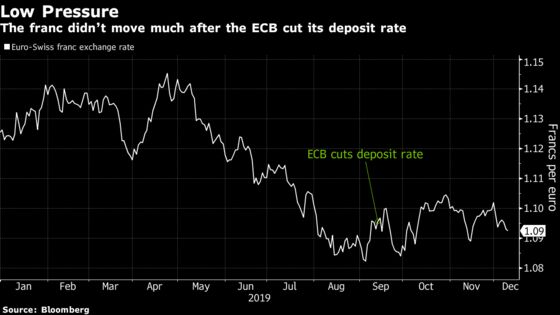 The test for such a view may be how long Switzerland can stick to the current level of minus 0.75%, the world's lowest along with Denmark, without cutting further and inciting more ire from banks. Led by President Thomas Jordan, the SNB's experiment with subzero monetary policy is already about to hit the half-decade mark.
"Negative rates have muddied the waters," said Gene Frieda, a strategist at Pimco. "It's fair to say that a negative rate is perceived differently than a lower positive rate."
To prevent the franc from appreciating against the euro, the SNB's deposit rate has been at minus 0.75% since early 2015, and officials have repeatedly stressed the need to maintain the differential with the euro area. But when the European Central Bank lowered its deposit rate by 10 basis points in September, the Swiss didn't follow suit.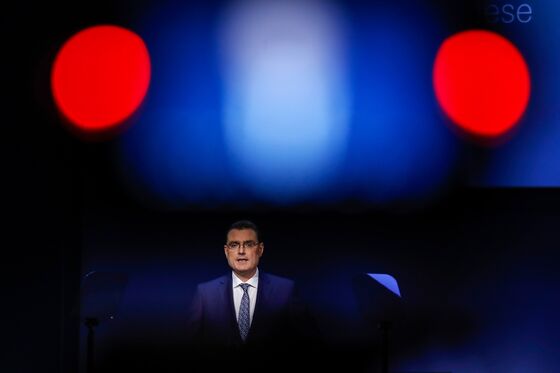 At the SNB, "they've tended to give the argument of the rate differentials rather more than less weight," said Adriel Jost, an economist at consultancy Wellershoff & Partner. "If this rate differential were as paramount as they say, they would have had to take a different decision."
The franc's recent relative calm partly reflects that the ECB's much-anticipated rate cut was largely priced in ahead of the decision. The Swiss currency appreciated about 4% against the euro between May and September, when it hit a two-year high around 1.08 per euro.
The franc was little changed at 1.092 per euro at 12:26 p.m. in Zurich on Wednesday.
Jordan and his colleagues are expected to keep the main policy rate unchanged and reaffirm their intervention pledge at their next meeting in Bern on Thursday.
Forecasts indicates the currency should weaken somewhat in 2020 and futures suggest the SNB won't adjust rates at all next year.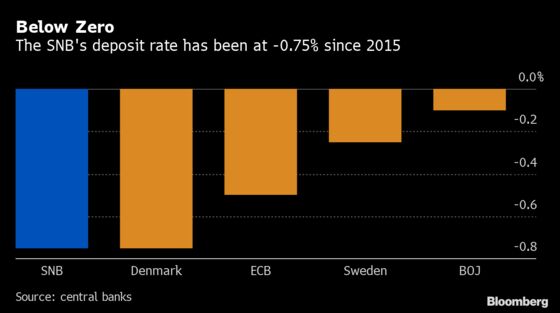 Luke Hickmore, investment director at Aberdeen Standard Investments, says that at some point, market fundamentals will reassert themselves.
The differential between Switzerland and the euro area "can only get stretched so far," he said. "It's a bit like attaching an elastic band to a brick -- you can only stretch it only so far before it bounces back."
Still, subzero monetary policy has clouded things. Reducing an already-negative rate of interest could be judged by investors to be contractionary rather than stimulative because it hurts banks.
Also according to David Bloom, global head of foreign exchange strategy at HSBC, looking at interest-rate spreads to gauge the path of G-10 currencies isn't helpful any more, because low interest rates have upended how investors behave.
"The market and the way it views life is changing -- it's undergoing a fundamental change," he said.