Swiss Central Bank Urged to Lift Inflation Goal, Manage Currency
(Bloomberg) -- The Swiss National Bank should raise its inflation target and consider using its exchange rate rather than its benchmark interest rate as its main tool, according to a group of economists.
While the proposal on price growth would bring the SNB more in line with international counterparts, the suggestion on how to manage the franc would be more controversial. Switzerland is already designated as a currency manipulator by the U.S.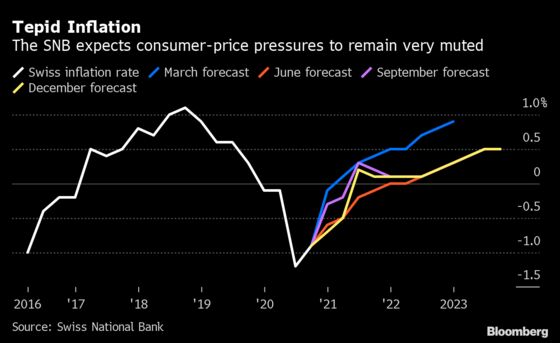 Stefan Gerlach, former deputy governor of the Irish central bank now at EFG International AG, Yvan Lengwiler of the University of Basel and Charles Wyplosz, honorary professor at Geneva's Graduate Institute addressed the issue of persistently weak price growth in Switzerland, despite negative interest rates since 2015.
"A revision of the strategy is needed now," they wrote in a paper published Wednesday. "We recommend that the SNB should commit to a more precise and slightly higher inflation goal, and it should clarify the role of the exchange rate in its strategy."
They recommended the SNB to adopt a 2% average goal for inflation in the medium term. It currently defines price stability more broadly, as positive rates of inflation below 2%. In fact, inflation has been below zero for more than a year.
The Bank of England has a 2% target, and the U.S. Federal Reserve last year tweaked its goal to average 2% over time, allowing for overshoots after periods of weakness. The European Central Bank targets "below, but close to, 2%" but is considering whether to shift more in line with the Fed or BOE.
The economists also said the SNB may need to recognize that the benchmark interest rate -- currently the world's lowest at -0.75% -- "has ceased to play a role as a policy instrument."
One option would be to peg the franc to the euro, the economists said, but that could easily result in sustained Swiss inflation above 2% which would be politically unacceptable.
An alternative might be to follow Singapore's example of a so-called crawling peg. The Singapore dollar is managed against an undisclosed basket of currencies, and the trade-weighted exchange rate is allowed to fluctuate within a range known as the policy band, with authorities able to tweak various parameters.
"This solution also has two advantages. First, monetary autonomy is preserved," the economists wrote. "Second, the need for foreign exchange market interventions would be drastically reduced as the markets would follow the SNB's lead."
The SNB declined to comment on the paper.
Investors tend to flock to the perceived safety of the franc in times of stress, boosting its value and pushing down on inflation by cutting the cost of imports. The Swiss central bank has spent years intervening in he market to keep the currency in check, accumulating hundreds of billions of francs in reserves as a result.
"The exchange rate has come to play a crucial role in the SNB's pursuit of price stability," the economists wrote. "Greater transparency and frankness -- and indeed a formalization -- of the role of exchange rate in SNB policy is desirable."