Sweet Tooth Grows in Top Sugar Importer as Buying to Climb
(Bloomberg) -- Sugar refiners in Indonesia, the world's largest importer, will probably boost overseas purchases of the raw variety this year to meet rising demand from the food industry, according to a senior industry official.
Refiners may buy about 3.2 million metric tons of raw sugar from abroad, more than the 2.8 million tons of already announced quotas, and an increase on the 3.04 million tons shipped in last year, Rachmad Hariotomo, chairman of the Indonesia Sugar Refiners Association, said in an interview on Tuesday.
The government "has allowed small and medium-sized food makers to buy sugar from the refiners and we're ready to supply them through the cooperatives," said Hariotomo. That would represent additional demand of 420,000 tons, taking imports above the current quota, he said in Jakarta.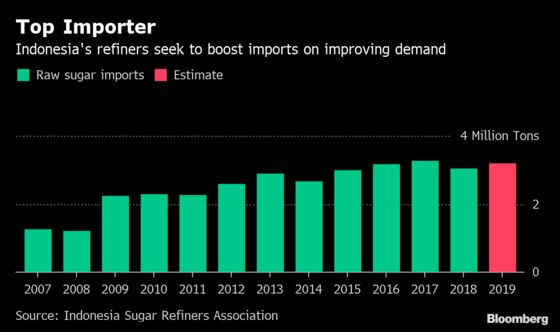 Indonesia's sugar imports have roughly doubled in the past decade as rising incomes and economic growth powered an increase in food consumption in the world's fourth most-populous nation. The country overtook China as the biggest sugar importer in the 2016-17 season, and is the biggest consumer of palm oil and the second-largest buyer of wheat. Increased purchases may support New York futures, which have fallen for two years because of a global glut.
The refiners association represents 11 companies that process only imported raw sugar for industrial use. Purchases are regulated by government permits, of which 1.4 million tons have already been issued for the first half. Sweetener for household consumption is supplied by other mills that crush domestic cane, and through additional imports. The U.S. Department of Agriculture estimates total sugar purchases from abroad at 4.25 million tons in 2018-19.
The refiners import the raw sugar mainly from Thailand and Australia, with small amounts coming from Brazil, buying the sweetener from traders or entering direct transactions with suppliers, Hariotomo said. Thailand had a 76 percent market share in Indonesia last year, while Australia had 23 percent and Brazil just 1 percent, according to the Australian Sugar Milling Council.
India has been trying to supply sugar to Indonesia, according to Hariotomo. A delegation from Indonesia will travel to India on Feb. 21-23 to meet government and industry officials and discuss sugar trade between the two countries, he said. The meeting is part of India-Asean Summit in New Delhi.
"We want to know the conditions in India," Hariotomo said. "At the last meeting, India said they can export up to 2 million tons. We're open, but we have to consider their consistency as a supplier, the price and quality."
Indonesia has a 10 percent import duty on Indian sugar, higher than 5 percent on sweetener from Australia and countries belonging to the Association of Southeast Asian Nations, such as Thailand. The country is open to India's demand for equal tariffs on raw sugar imports with Australia and Asean in return for reducing the duty on palm products from Indonesia, Trade Minister Enggartiasto Lukita said last month.