Riksbank Adds High-Grade Corporate Bonds to Crisis QE Agenda
(Bloomberg) -- The governor of Sweden's Riksbank, Stefan Ingves, said high-grade corporate bonds may be added to a record $30 billion quantitative easing program to help prevent a credit crunch.
"It's certainly on our agenda" Ingves said in an interview. Asked whether the Riksbank might even consider junk bonds, he said, "Everything is on the table."
The bank kept its main rate at zero on Tuesday, as expected. Though it said rate cuts remain an option, Ingves went on to clarify that such a move would "not be a very meaningful" way to stimulate demand in the current crisis.
"We really want to ensure that the financial sector keeps working, that's why we are massively using our balance sheet. Without doing so we run the risk of having all sorts of problems," Ingves said. "Our choice now is to not use the policy rate, but to create more money by lending or buying assets."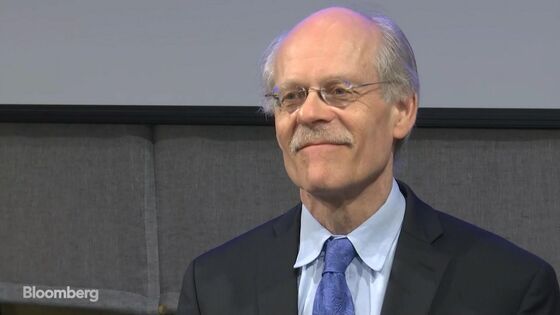 Ingves has repeatedly downplayed the need to return to negative rates after bringing five years of the policy to an end in December. Instead, the Riksbank has spent the past six weeks doubling an existing bond-purchase program and provided about $50 billion in cheap bank loans. Lenders also have access to dollar liquidity, via an agreement with the Federal Reserve.
The Riksbank's reluctance to follow the deep rate cuts delivered by its peers has fed into a global debate on the best policy response to the current crisis.
"In our judgment, it has been much, much more important to use our balance sheet," Ingves said.
With its current QE plans, the Riksbank is on track to increase its balance sheet to about 50% of Swedish GDP, or roughly $250 billion, according to Andreas Steno Larsen, global FX strategist at Nordea.
In its statement on Tuesday, the Riksbank said its decision not to cut rates this week "does not rule out the possibility of the interest rate being cut at a later date if this is deemed an effective measure to stimulate demand and support the development of inflation in the recovery phase."
The krona gained as much as 0.8% against the euro after the Riksbank's statement. Three of the 22 economists surveyed by Bloomberg had predicted a cut, while others had expected an expanded quantitative easing program. The bank said it will "continue purchases of government and mortgage bonds up to the end of September 2020."
"Although future economic developments are extremely uncertain, everything nevertheless indicates that monetary policy stimulus will be needed in the form of low interest rates and a large amount of liquidity for the foreseeable future. The combination of measures deemed appropriate is constantly evaluated and will be adjusted to economic developments," the Riksbank said.
The Riksbank also provided less clear forward guidance than it has in the past, as Covid-19 adds several layers of uncertainty to forecasts.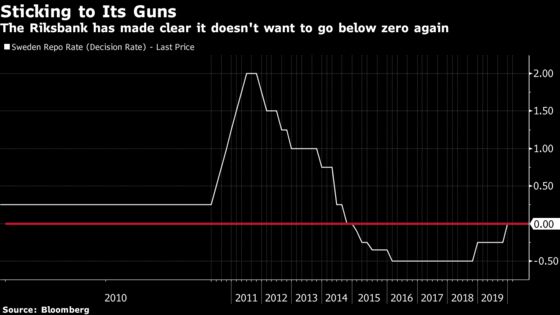 The Riksbank expects Sweden's economy to contract 6.9% this year. But GDP could shrink as much as 9.7% in a worst-case scenario, it said.
"The central bank's own forecast for rates, the rate path, signaled they would remain unchanged until February 2021," said Johanna Jeansson of Bloomberg Economics. "A prolonged downturn may still force the central bank to revert to negative rates in our view."
Click here to read the full Bloomberg Economics report.