Swedish PMI Drops to Lowest Since 2016
(Bloomberg) -- Sweden's manufacturing activity slowed sharply at the end of 2018, falling to the lowest level since early 2016 as production and hiring cooled.
The purchasing managers' index fell to 52.0 in December from 55.4 in November, according to Swedbank/Silf. That's the lowest level since February 2016.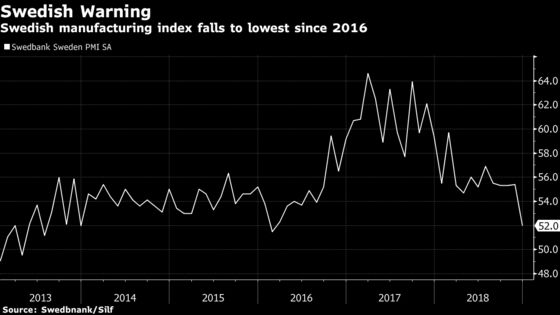 Reading adds to evidence largest Nordic economy is cooling and comes after the Swedish central bank last month raised interest rates for the first time in seven years.
Swedish PMI is often seen as a leading indicator for a broader slowdown in European manufacturing.
Sub-indexes for orders, production and employment all declined.
December reading shows a "broad slowdown," said Jorgen Kennemar, an economist at Swedbank AB who's in charge of analysis of the index. "Monthly readings should however be interpreted carefully and the next few months will show where the economy is heading."
Nordea economist Torbjorn Isaksson wrote in a note that "the only positive news" related to the PMI reading was that the orders-to inventory ratio as well as the OECD leading indicator "don't suggest any further downturn in the PMI in the near term."
"On top of the weakening housing market and a likely slowdown in private consumption, this is sign that Sweden's traditional growth motor is slowing down," Danske Bank economist Michael Grahn said on Twitter.
Swedish krona slid 0.3% to 10.20 per euro as of 8:52 a.m.
For more details, see Sweden Swedbank Manufacturing PMI Fell to 52 in Dec. (Table)