Swedish Optimism Rises Ahead of Election, Rate Decision
(Bloomberg) -- Swedes grew more optimistic about the economy, in news likely to be welcomed by the government ahead of next week's general election and by the Riksbank as it prepares to tighten after years of ultra-loose monetary policy.
Sweden's economic tendency indicator rose in August to 111.5 from a revised 109.7 in July, according to the Swedish National Institute of Economic Research, beating analysts' estimates of an unchanged reading.
A reading above 100 indicates a stronger than normal economy, while values between 90 and 100 show a weaker than normal economy. Sweden's NIER indicator has been consistently above 100 since the middle of 2015.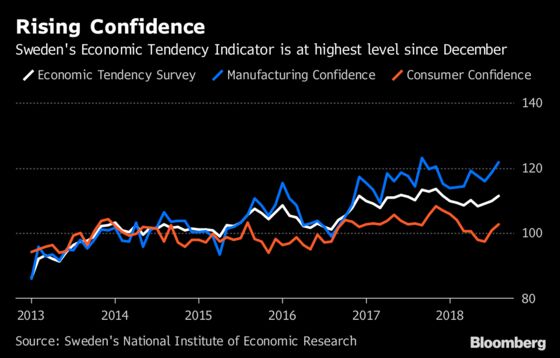 Manufacturing confidence rose to 121.8 from a revised 118.5 in July, while consumer confidence rose to 102.6 from 100.7.
"Things are looking good for the Swedish economy," said Olle Holmgren, an economist at SEB. "GDP has surprised in the first half of the year, and this indicates that also the second half is off to a good start."
The latest data comes amid suggestions that economic growth may have peaked, just as the central bank prepares to raise interest rates for the first time since 2011. It also comes only days ahead of one of the most uncertain general election in recent history.
Read the latest news on Sweden's general election
Data published earlier this week showed that Swedish retail sales data unexpectedly plunged during one of the hottest summers on record, adding to the doubts over economic momentum.