Riksbank Dodges Worst Outcome After Latest Inflation Miss
(Bloomberg) -- Go inside the global economy with Stephanie Flanders in her new podcast, Stephanomics. Subscribe via Pocket Cast or iTunes.
Sweden's inflation outcome could have been worse for the central bank.
While price growth fell short of the Riksbank's forecast for a third month in March, the underlying rate provided some relief after two terrible months. Consumer prices with a constant interest rate rose an annual 1.8 percent, in line with analysts estimates. Underlying inflation edged up for the first month in three, helping push up the krona.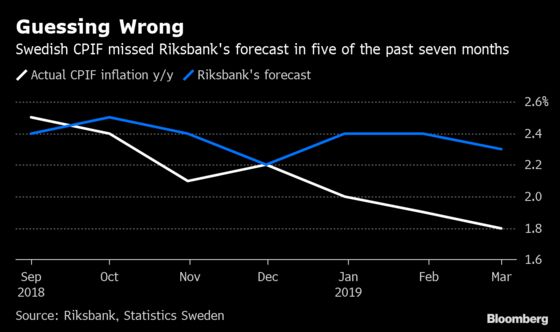 Inflation has been falling far short of estimates and slid below the Riksbank's 2 percent target again, casting doubts on plans to raise rates again later this year.
Policy makers raised rates to minus 0.25 percent in December, the first increase in seven years after a long battle to lift price growth.
CPIF rose 0.2 percent in the month, with increases in food, clothing and fuel prices offset by drops in the price of electricity, books and package travel.
CPIF excluding energy reached 1.5 percent, beating the analyst estimate of 1.4 percent.
According to the latest Bloomberg survey report, economists now expect a rate hike in the final quarter of 2019, rather than in the third quarter. The next monetary policy decision will be announced on April 25.
Mats Hyden at Nordea said the "Riksbank should find it hard to ignore the low numbers at its April meeting. The next rate hike should still be distant."
Claes Mahlen at Handelsbanken said the bank would stick to its September rate hike forecast after Thursday's data.
Anna Breman at Swedbank focused on underlying inflation coming in "marginally higher than expected," strengthening "our view that Riksbank will hike in September 2019 and then remain on hold in 2020."
The krona initially rose on the news, but traded little changed at 10.44 per euro as of 10:50 a.m.
For more details, see this table