Swedish Inflation Hits 28-Year High, Pressuring the Riksbank
Spiking electricity prices pushed Sweden's inflation rate to a new 28-year high, fueling doubts over the Riksbank's plans to leave its policy rate at zero for years to come. 
The central bank's target measure, CPIF, rose to 4.1% in December, according to data released by Statistics Sweden on Friday. Economists surveyed by Bloomberg had expected CPIF at 4% while the Riksbank's forecast, issued in November, was 2.9%.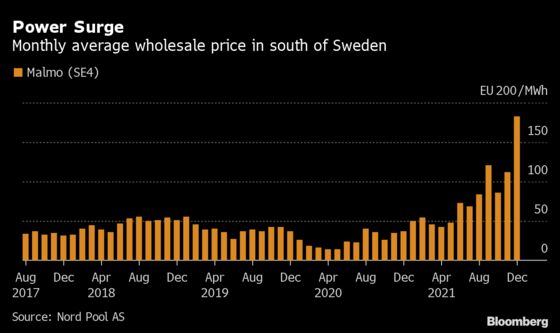 The data raises further questions over the stance of the central bank, among the most dovish in the rich world, which projects that the rate of price increases will fall below its 2% target in the second half of this year. Even so, a slowdown in underlying price growth suggests the Riksbank won't rush to change plans to leave its key policy rate at zero some time into 2024. 
"The probability for a rate hike has increased, although the main scenario is that the Riksbank will keep the repo rate unchanged at zero," Nordea's economist Torbjorn Isaksson said in a note. "After all, inflation will probably be much lower later this year."
Wholesale electricity prices in the south of Sweden were almost five times higher in December than in the same month in 2020. In response to soaring costs, the Swedish government has set aside 6 billion Swedish kronor ($672 million) to provide winter-bill subsidies of as much as 6,000 kronor to about 1.8 million households with high power consumption.
The price data comes as doubts have already increased over the Riksbank's plans. JP Morgan this week changed its forecast to indicate that the central bank will hike in April next year, and Capital Economics expects a rate hike already in November, as continuing imbalances in the supply and demand of goods may force the Riksbank to rethink its dovish stance. 
"A hawkish shift by the Riksbank is overdue, and the official projection of a single rate hike in late-2024 is now stretching the limits of plausibility," the firm's economist David Oxley said in a note published Thursday. "The Board will surely have to fall on its dovish sword before long."
Electricity prices had the biggest monthly increase this century, according to Statistics Sweden. Excluding energy prices, the rate of annual inflation in December was 1.7%, slightly lower than the 1.8% expected by economists. Swedbank economists noted that the data set did contain some evidence that companies are passing on higher costs to consumers.   
"Food prices were slightly stronger than expected, as well as furniture, clothing and transport," Carl Nilsson and Knut Hallberg said. "On the margin, we view the overall outcome as somewhat hawkish for the Riksbank."