Swedish Inflation Expectations Fall in Further Blow to Riksbank
(Bloomberg) -- Swedish inflation expectations declined in March, adding to doubts that the Riksbank will be able to hike rates again in the second half of this year, after inflation data again missed the bank's forecast last month.
Swedish money market participants, labor market parties and purchasing managers now see consumer prices with a fixed interest rate rising 1.9 percent in year 5, according to a survey by Kantar Sifo Prospera commissioned by the central bank in Stockholm. That's down from 2.0 percent in the previous survey in December. Expectations for year 1 and 2 also fell, to 1.9 percent from 2.0 percent.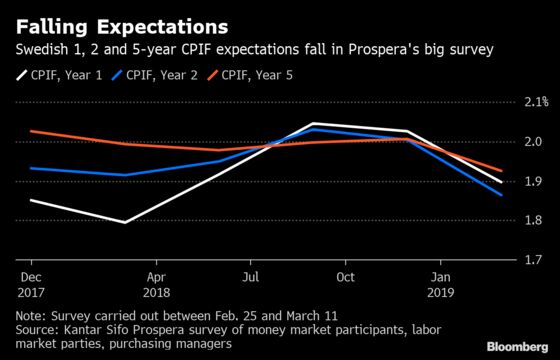 The survey showed that inflation expectations for both year 2 and year 5 dropped to their lowest level in Prospera's big survey since it started asking about CPIF inflation in late 2017.
The Riksbank counts on CPIF inflation remaining near its 2 percent target in the coming years and is planning to raise the repo rate to zero in the second half of this year, after lifting it to minus 0.25 percent in December.
But many economists are questioning whether that will be possible due to recent weak economic data and added stimulus from the European Central Bank, and after inflation in February missed the Riksbank's forecast for the fourth time in the past five months
Nordea now estimates that the Riksbank's repo rate won't hit zero before the middle of next year, while SEB doesn't see a hike until April next year
"Declining inflation expectations adds to the Riksbank's headache on top of the continued low inflation reading presented yesterday," SEB AB economist Olle Holmgren said in an emailed note.
Martin Enlund, an economist at Nordea Bank Abp, said "there's not much of a signal" in the bigger quarterly Prospera survey. But if there is one, "it's slightly dovish." According to Enlund, the drop in CPIF expectations was already indicated by money-market participants in Prospera's monthly survey.
Claes Mahlen, a strategist at Svenska Handelsbanken AB, said that from the Riksbank's perspective, inflation expectations remain anchored around the target.
The krona shrugged off the data and was down 0.1 percent at 10.5766 per euro as of 8.30 a.m. in Stockholm.