Swedish Real Estate Hotter Than Ever as 'Hysteria' Hits
(Bloomberg) -- Swedish house prices soared to the highest level ever recorded, as a growing number of people make use of unprecedented central bank stimulus to upgrade into bigger homes.
"From a credit perspective, one can only conclude that the market has been gripped by hysteria, which is connected to central banks pumping money into the system," said Carl Johan Lagercrantz, a portfolio manager at Strand Kapitalforvaltning AB in Stockholm.
Houses cost 15% more in February, on average, than a year earlier, while apartments were up 6%, according to data published on Friday by Svensk Maklarstatistik. Both gauges are now at record highs.
The Riksbank is trying to balance its stimulus efforts to support demand during the pandemic without over-juicing the property market. But with the bank's quantitative easing program now set to suck up large quantities of the covered bonds that back mortgages, Sweden's housing market is likely to get even hotter.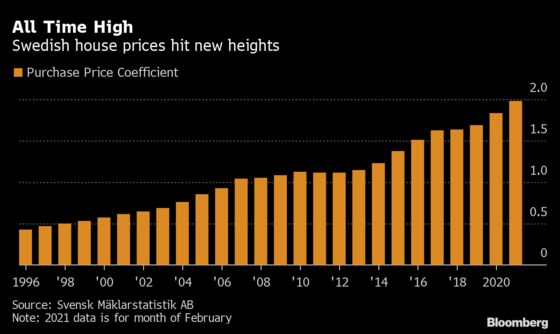 Meanwhile, funding costs are falling in Sweden's corporate bond market, which is heavily exposed toward the real estate sector. The Riksbank's QE program has also played a role here, with purchases of corporate bonds contributing to narrower spreads. More than half the Riksbank's 5.5 billion-krona ($646 million) portfolio of company debt is held in property bonds.
Alexander Onica, a portfolio manager at Skandia, says the difference between now and previous rounds of monetary stimulus is that the government is also pumping record amounts of money into the economy.
"I think that can create more inflation than QE was intended to do," he said. "And until three weeks ago, everybody thought interest rates couldn't go up. Suddenly, it turns out that rates can certainly rise."
Sweden's financial watchdog has said it plans to reinstate an amortization requirement on mortgages from Aug. 31, with the agency's head, Erik Thedeen, noting last month that the housing market "has ignored the crisis."
The Riksbank says Sweden's housing market would benefit from structural reforms to boost supply.
"As long as the demand for housing is higher than the supply, prices and indebtedness are likely to continue to rise," Deputy Governor Anna Breman said, according to the minutes of the Riksbank's most recent rate meeting.
According to Fredrik Hemborg, a unit president at housing development company Bonava, prices aren't likely to recede any time soon.
"One of the consequences of the pandemic, where a lot of people are working from home, is an increased focus on the importance of the home and the neighborhood," he said. "We expect a continued favorable price development."