Swedish Economy Heats Up With Riksbank Looking to Hike Rates
(Bloomberg) -- Sweden's economic growth unexpectedly accelerated in the second quarter as consumer spending and exports picked up, lending support to the central bank's plan to start unwinding its record stimulus later this year.
Gross domestic product grew 1.0 percent in the period, accelerating from a revised 0.8 percent in the first three months of 2018 and beating the 0.5 percent estimate in a Bloomberg survey. GDP grew 3.3 percent from a year earlier. The krona climbed 0.6 percent to 10.24 per euro as of 10:01 a.m.
The largest Nordic economy is in the midst of the longest expansion since at least the early 1980s after 20 consecutive quarters of growth. The boom has in part been fueled by a record wave of immigration since 2015 and has driven employment to a record high level and public debt to the lowest since 1977.
"This was a surprisingly good figure," said Olle Holmgren, an analyst at SEB AB. "If we look at the underlying drivers we see that exports are doing really well and consumption is continuing to stay strong. But we remain cautious in our interpretation of a single quarter."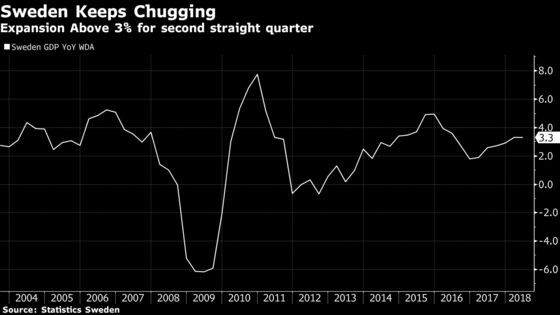 Consumer spending showed resilience in the quarter after optimism had waned following sharp declines in the housing market late last year. Interest rates are at rock-bottom, but the central bank has flagged it will start raising rates from a record low of minus 0.5 percent toward the end of the year after unleashing record stimulus over the past four years to stabilize inflation.
Consumer spending rose 0.9 percent in the quarter while investments fell 0.2 percent, according to Statistics Sweden. Exports increased 0.5 percent and imports slid 0.1 percent.
"The Riksbank have been very clear that they are focusing on inflation, but on the margin this could increase probability for a rate hike," said Holmgren. "But we don't see reason to to change our forecast due to this. We still believe in a first rate hike in April next year."
Nordea Bank AB said that the composition of the expansion wasn't "that impressive" with inventories contributing to the expansion more than expected.
Read more: See table for components
"It's an exciting situation with inflation around target and a continued strong growth in the economy," said Torbjorn Isaksson, chief analyst at Nordea. "A rate hike this year can't be ruled out, but I still don't think it will happen since the majority on the governing board still doesn't believe that inflation is on solid ground yet."