Swedish Economy Contracts as Riksbank Prepares to Hike Rates
(Bloomberg) -- Sweden's economy contracted in the third quarter, missing estimates and casting doubts among some economists over the central bank's plan to hike rates as soon as next month.
Gross domestic product fell 0.2 percent from the prior quarter and was up 1.6 percent from the same period last year, Statistics Sweden said in a statement. Analysts surveyed by Bloomberg had predicted quarterly growth of 0.2 percent.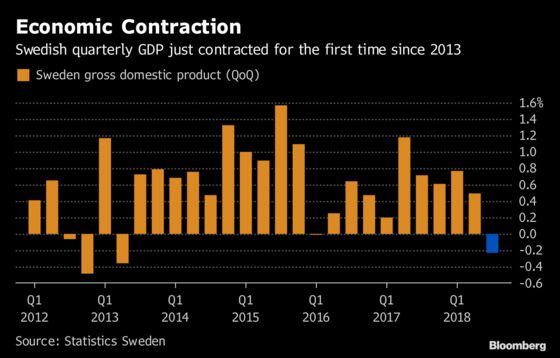 The data comes on the back of falling confidence levels and disappointing retail sales and is bound to be taken into account by the Riksbank as it decides whether to raise rates in December, or wait until February.
The quarterly contraction, on the back of falling household consumption, represents the first such drop since the second quarter of 2013.
Sweden still doesn't have a government after September's inconclusive general election.
The Swedish currency headed for its biggest loss in a week versus the euro following the news, with EUR/SEK rising as much as 0.4 percent
SEB says weak GDP will not stop the Riksbank from hiking in December.
Nordea's Torbjorn Isaksson says "we expect the Riksbank to hike rates in December, but weak growth underlines that it is not a done deal."
Handelsbanken says there were some temporary factors behind the weak data and that it's "not as worrisome as one might think."

Consumption of vehicles collapsed in the quarter following the front-loading of car sales in the previous quarter, ahead of changes in both Swedish tax rules and international emissions tests, it said.
For more details, see this table