Swedish Central Bank Faces Its Biggest Decision in Seven Years
(Bloomberg) -- Sweden's central bank may be facing its most difficult meeting since 2011.
That's the last time the bank raised interest rates and, in so doing, set in motion a cycle that ultimately ended in the deployment of crisis measures.
Inside and outside the Riksbank, there are now very different views on how and when it should unwind its historic stimulus program. Ten of the 24 economists surveyed by Bloomberg expect the bank to take a first step this week, adding a quarter point to the benchmark repo rate and bringing it to minus 0.25 percent. The rest predict that the board will wait.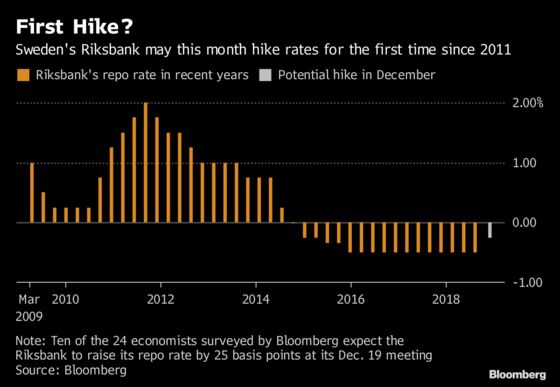 The first Swedish rate rise in seven years would come a week after the European Central Bank announced an end to its quantitative easing program, which has pumped cash into Europe for almost four years and left countries like Sweden to deal with the fallout. It was the start of ECB stimulus that forced Riksbank Governor Stefan Ingves and his colleagues to unveil their own bond-buying program and cut rates below zero.
The Riksbank's board has been split over when to take the next step, after halting its quantitative easing program late last year. But with inflation now hovering at the 2 percent target, the board has said it feels confident it can move before the ECB and has signaled a hike will come either in December or February.
But it's a difficult time to start tightening, especially since global and domestic growth are showing signs of slowing amid an escalating trade war and falling stock markets. The U.S. Federal Reserve has also grown much more cautious with its rate hikes and the ECB has signaled it won't raise rates at least until the second half of next year.
For Swedish policy makers, who were derided by Nobel laureate Paul Krugman as "sadomonetarists" for their bias toward tight policy during the financial crisis, raising rates in the current environment may be difficult.
Here's what economists say:
Handelsbanken, Johan Lof:
November inflation fell short of the Riksbank forecast, and strengthened Handelsbanken's view that the Riksbank will wait until February. There's also an "increased, but still small, risk that there will not be a hike in either of the two upcoming meetings."
Nordea, Torbjorn Isaksson:
The Riksbank will raise in December but at the same time give mixed signals by lowering its rate path. "It seems increasingly clear that the purpose of a rate hike in December would not be to cool down the economy and curb future inflation," Isaksson said. The Riksbank seems to see an "intrinsic value in hiking the rate from the current extremely low level."
SEB, Elisabet Kopelman:
The decision is the most uncertain in a long time. If the bank only looked at economic development it would probably wait until February, but SEB predicts it will tighten this week, she said. 
Swedbank economists:
A rate increase is expected on Thursday, but "uncertainty is high" and the decision is expected to be softened by a cautious undertone. "A flatter repo rate forecast could also be a possibility, and Riksbank Deputy Governor Per Jansson may express reservations about the rate decision."
Danske Bank economists:
Predict an increase in December since there's been a "shift in in the overall impression of the board in the sense that a repo rate of minus 50 basis points (combined with QE) is an emergency rate no longer required considering that inflation expectations are stable and close to 2%."