Swedes Less Optimistic Over Economy Ahead of First Rate Hike
(Bloomberg) -- Swedes have become less upbeat about the economy for the second month in a row, just as the central bank gets closer to raising its key interest rate for the first time in seven years.
The economic tendency indicator, a weighted average of consumer and business confidence, fell to 106.7 in November from a revised 107.6 in October, the National Institute of Economic Research (NIER) said Wednesday. Analysts surveyed by Bloomberg had expected a reading of 107.0.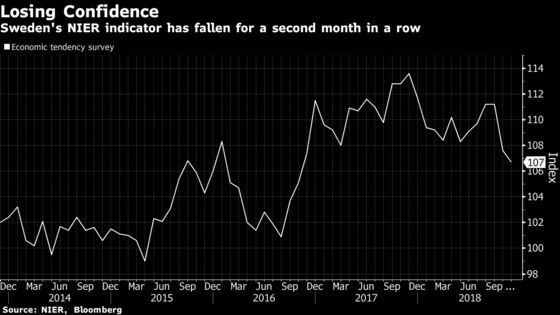 The data comes amid political deadlock and ahead of third-quarter GDP data due Thursday that according to some analysts may show a quarterly contraction
That view is reinforced by disappointing October retail sales, which fell 1.1 percent on the month and 0.1 percent on the year, while economists had on average expected retail sales to rise 2.0 percent on the year

Despite signs of a slowdown, the Riksbank is expected to cautiously start normalizing monetary policy, with a first rate hike in either December or February

According to Thursday's NIER readings, manufacturing confidence rose to 116.2 (from 115.3) while consumer confidence declined to 97.5 (from 98.5); NIER said the improvement in manufacturing helped the overall index point to stronger sentiment than normal in the economy
The tendency indicator is based on monthly surveys of approximately 6,000 companies and 1,500 households; a reading above 100 indicates a stronger than normal economy
Nordea economist Torbjorn Isaksson said the decline in the NIER indicator means that the "domestic economy is showing weakness"

But while "there are some question marks regarding domestic demand," they "will probably not stop the Riksbank from hiking rates in December," Isaksson said

Danske economist Michael Grahn highlighted "very weak" retail sales and pointed to a significant increase in price expectations

"Hence, the overall impression is signals about slowing growth, but also an impending price pressure"
For more details, see this table