With 2008 in Mind, Riksbank Holds Off on Rate-Hike Signals
Sweden's central bank refrained from signaling any intention to raise borrowing costs anytime within the next three years even as the largest Nordic economy shakes off the fallout from the pandemic.
The Riksbank expects to keep its key benchmark rate at zero through the third quarter of 2024, and will continue buying assets until next year, it said in a statement on Thursday. It raised Sweden's growth forecast this year to 4.2%, compared with an earlier estimate of 3.7%.
But eager not to repeat past mistakes -- having had to dial back its interest rate hikes after the global financial crisis -- policy makers warned that another wave of infections could still dent the recovery. Governor Stefan Ingves said a surge in some commodity prices and cost pressures from supply bottlenecks will only boost inflation temporarily.
The Swedish central bank's outlook is increasingly at odds with that of its neighbors. Norway has signaled its intention to raise rates in September, while Iceland already tightened in May. Elsewhere among the world's major central banks, the U.S. Federal Reserve last month brought forward expectations of its own future rate increases.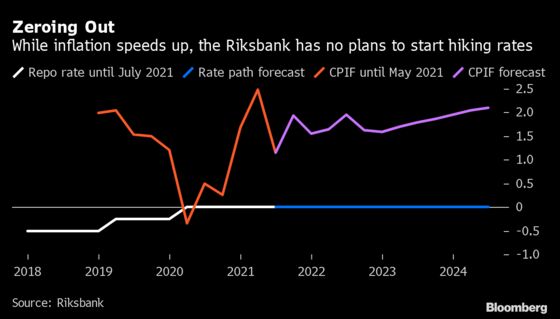 "We expect policy makers will want to wait for other central banks to approach a liftoff before promising higher rates," according to Johanna Jeansson, an economist at Bloomberg Economics. "The Riksbank has likely not forgotten when it was quick to raise rates in the aftermath of the global financial crisis only to reverse course as a stronger krona led inflation to slow. It won't want to make the same mistake again."
Thursday's decision was largely expected by economists and market reaction after the announcement was muted. The krona weakened slightly to trade at 10.156 against the euro as of 10:04 a.m. in Stockholm.
Kyrre Aamdal, senior economist at DNB Bank ASA, noted that an improved outlook and higher inflation forecasts don't seem to have fundamentally changed the Riksbank's view of the Swedish economy's ability to rebound.
"This means that the need for support remains largely unchanged," Aamdal said.
Riksbank isn't seeing any significant increase in inflation expectations that are "fairly stable" around 2%, Governor Ingves told a news conference after the decision. A shortage of semiconductors and containers may raise inflation rates by "a few tenths of a percentage point" but won't be persistent, he added.
"There is a rather weak connection between inflation and the cost of commodities and freight rates," he said. "Raw-material prices can fluctuate a lot without it affecting consumer prices to any great extent."
The central bank kept its quantitative easing program at 700 billion kronor ($82 billion).
The rate decision comes amid a political crisis that has engulfed Sweden after Prime Minister Stefan Lofven lost a confidence vote in parliament last week. The political mess, however, isn't expected to have "a significant impact on economic developments in the short term," the Riksbank said.
The Nordic economies have weathered the Covid crisis better than most rich countries, helped by generous welfare systems and widespread digitalization that made working from home less of a disruption. But years of ultra-low interest rates have also fed record home prices, which has sparked fears of a housing market bust.