Sweden's Social Democrats Get Next Crack at Breaking Deadlock
(Bloomberg) -- Acting Swedish Prime Minister Stefan Lofven was handed the chance to form a government to extend his rule into a second term after the opposition failed to find a viable coalition following almost two weeks of talks.
The Social Democratic leader will now have two weeks to sound out his colleagues, parliament speaker Andreas Norlen said in Stockholm Monday. "I'm doing everything I can to make the process as short as possible," Norlen said. "With the deadlock we have it would be a pretty fast process if one could loosen this up in two to four weeks."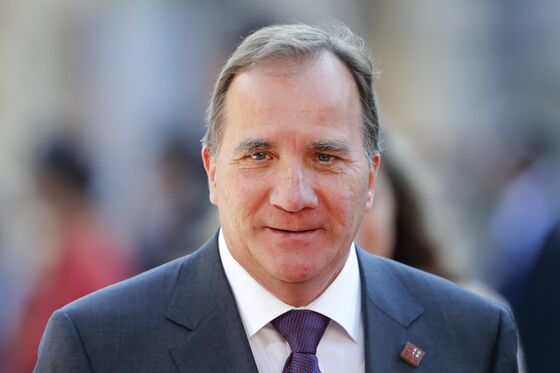 Lofven has no clear path ahead. He last month led his Social Democratic party to its worst election in a century even as his left-green bloc managed to hang on to a one-seat lead over the center-right Alliance. But big gains by the nationalist Sweden Democrats mean that neither of the established blocs have a majority.
Serving as head of a caretaker government after being ousted in a confidence vote last month, Lofven on Monday reiterated his call for a broad Social Democratic-led coalition to break the impasse. He will need to lure over the Center and Liberal parties and break the opposition Alliance. Lofven oversaw a minority government over the past four years with the support of the Green Party and the former communist Left Party.
At press conference after the speaker's decision on Monday, Lofven said he would seek to form a coalition in the center of Swedish politics, cautioning that talks will be "long" and "difficult."
"It will require humility and compromise," he said. Meetings will be held with all parties except the Sweden Democrats, he said.
Ulf Bjereld, a political science professor at the University of Gothenburg and a Social Democratic activist, said Lofven has a "very complicated" task ahead of him.
In talks with the Liberals and the Center Party he will need to bridge differences on taxes, business policy and the labor market, but will find common ground in the opposition to the Sweden Democrats, he said.
"In order for him to succeed, it will take quite a lot of humility and openness from both the Social Democrats and from the Liberals and the Center Party," Bjereld said.
Moderate Party leader Ulf Kristersson on Sunday abandoned his attempts to form a government amid deep divisions in the Alliance over whether to seek support from the nationalists to grab power. The leaders of the Center and Liberal parties over the weekend rejected a plan by Kristersson's for a smaller right-wing government that would rely on nationalist support.
Center Party leader Annie Loof on Monday showed few signs she's ready to leave the Alliance for Lofven's camp, saying that she wants to keep the center-right united and that Kristersson should be prime minister.
"We're in a deadlock," she said. "It's important that the Moderates and the Social Democrats sit down and talk to each other."
The markets have so far taken the Swedish political turmoil in stride, being more focused on monetary policy. The Swedish krona is almost 1 percent stronger since the election while bond yields have followed global increases.
Johan Javeus, chief strategist at Swedish bank SEB AB, said the "most likely" outcome is that Lofven will fail in his current round and that Kristersson will eventually form a pared down conservative government with Christian Democrats that relies on support from his other Alliance colleagues and the Sweden Democrats.
"What we're now seeing could be an act to show the voters that a Moderate+Christian Democrat alternative was the least bad of all alternatives and that every stone has been turned," he said.