Central Bank's Estimated $7 Billion Support Buoys Indian Bonds
(Bloomberg) -- Benchmark Indian sovereign bonds posted their best week since December after the central bank stepped in with one of its heaviest interventions to support a market weighed down by a glut of paper.
The Reserve Bank of India probably bought 500 billion rupees ($6.9 billion) of bonds this week through announced open-market operations and discreet secondary market purchases, according to estimates by Emkay Global Financial Services Ltd. Yields on the 10-year note dipped 8 basis points, its biggest drop in 10 weeks.
The advance caps a tumultuous two weeks for debt traders, who were spooked Feb. 1 when the government announced a heavier-than-expected borrowing and later disappointed when the central bank stopped short of committing to regular debt purchases. The swings culminated in undisclosed buyers scooping up a record amount of notes on Thursday, triggering speculation that the RBI was behind the buying.
"RBI has tried to assuage the market by being action-oriented, sending a clear signal that they are going to be the heavy-duty balancing factor in the demand-supply mismatch of government bonds," said Madhavi Arora, Mumbai-based lead economist at Emkay Global.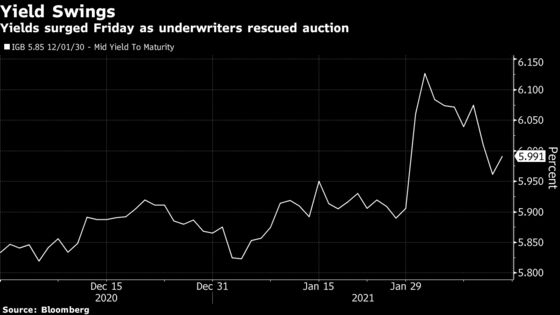 A category titled 'others,' which includes the monetary authority, bought 250 billion rupees of government bonds on Thursday, its biggest purchase. The data, published after the market shut, seemed to confirm speculation brewing through the day that surprise demand at a special auction was from state-run banks and primary dealers buying the notes to sell on to the central bank.
Another pre-scheduled auction Friday saw the sale of the 6.22% 2035 bond being partially rescued by underwriters. The central bank set the cutoff yield for the bond at 6.5540%, largely in line with the 6.56% estimated in a Bloomberg News survey of traders. In all, the central bank sold 271 billion rupees of bonds as against 260 billion rupees planned.
The 10-year yield rose three basis points to 5.99% on Friday and the most-traded 5.77% 2030 bond yield was up four basis points. The RBI had also set higher underwriting fees, raising doubts over investor appetite. After markets shut, the RBI said the government has canceled an operation scheduled for Feb. 15 that intended to switch shorter-tenor bonds with longer-term paper.
"The auction and the underwriting results indicate investors are not very comfortable buying at the current levels," said Naveen Singh, head of fixed-income trading at ICICI Securities Primary Dealership in Mumbai. As the borrowing progresses, yields are expected to inch higher, he said.