Sunak Has £15 Billion Buffer in U.K. Budget for Possible Tax Cut
Chancellor of the Exchequer Rishi Sunak has set aside a 15 billion-pound ($20 billion) fund that could be used for tax cuts before the next election if the pandemic is brought under control, analysis of U.K. budget figures shows.
Sunak put the money aside in a reserve for unforeseen emergencies in a spending review published with the budget last month. While all chancellors maintain such a cushion in case spending overshoots, Sunak's is multiples larger than that of his predecessors.
The "reserves" fund may give Sunak the flexibility to deliver popular measures to voters on the eve of the next election, which must be held no later than 2024. Members of the ruling Conservative Party are pushing for a tax cut after Sunak lifted the Treasury's take from the economy to the highest level since the 1950s.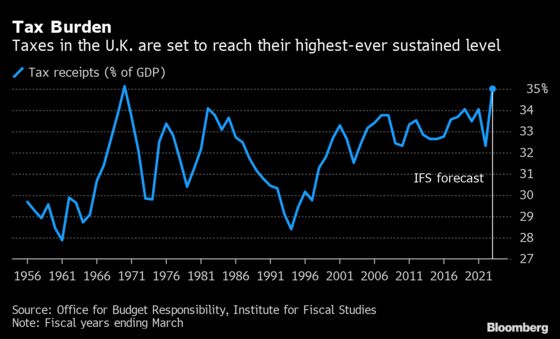 The sum is costed but unallocated, which means it can be released for whatever the chancellor chooses without having to increase borrowing, cut spending or raise taxes. 
"It could be used for anything," said Andrew Goodwin, chief U.K. economist at Oxford Economics. "It could be used to pay for an underfunding of social care. Or theoretically it could be used for tax cuts."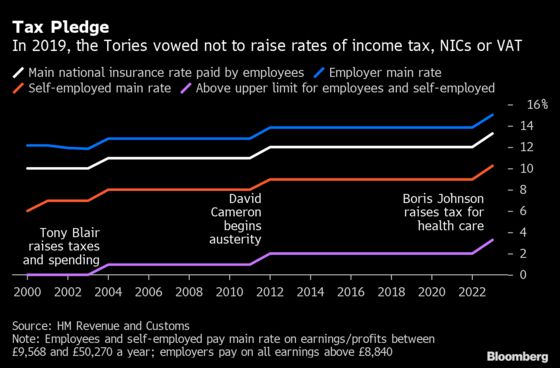 The Treasury has said the size of the reserve reflects the risk that the pandemic drags on as well as the uncertain path for the recovery. Officials at the Treasury declined to comment further. But in 2024, four years after the start of the pandemic, there is still 14 billion pounds set aside.
Sunak has said he does not want to raise taxes again, having already raised 12 billion pounds a year to fund health care for the elderly. 
"My goal is to reduce taxes," Sunak said in his budget on Oct. 27. "By the end of this Parliament, I want taxes to be going down not up."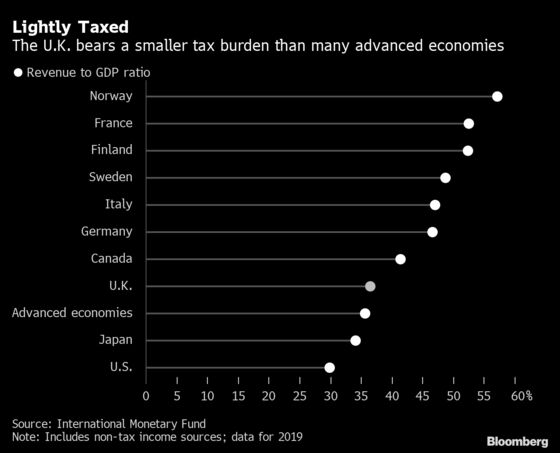 The unusually high level of reserves opens the prospect of a war-chest for election giveaways in either 2023 or 2024, assuming the pandemic is under control. Should he release just 6 billion pounds, the chancellor would be able to cut 1 percentage point off the key income tax rate.
The 14.7 billion pounds set aside by Sunak in 2023, and 14 billion pounds in 2024, dwarfs the reserve funds of previous chancellors. In the 2015 spending review, George Osborne allocated about 5 billion pounds for each of the four years. In the one-year spending round of 2019, during fraught Brexit negotiations, Sajid Javid set aside 8.2 billion pounds for 2020.
The reserves almost double the headroom the chancellor has against his self-imposed fiscal rules. The Office for Budget Responsibility judged that he would meet his target of having debt falling as a share of GDP in 2024 by a margin of just 17.5 billion pounds.