Rishi Sunak Cuts U.S. Trip Short for Aid Talks With U.K. Business
(Bloomberg) -- Chancellor of the Exchequer Rishi Sunak is flying back a day early from a work trip to California to hold crisis talks with U.K. businesses demanding state aid to counter the fallout from a record surge in coronavirus infections.
The chancellor and his team held discussions on Thursday with representatives of the hospitality industry, which has been clamoring for help after the government imposed restrictions to tackle the new Covid wave. No assistance was offered during the call, according to people with knowledge of the matter, but the Treasury said talks will resume on Friday.
Pressure is mounting on the U.K. finance minister to provide support for the economy. The opposition Labour party criticized his "radio silence" over the crisis, and a succession of backbenchers from his own party urged the Treasury to do more to help pubs, restaurants and night clubs.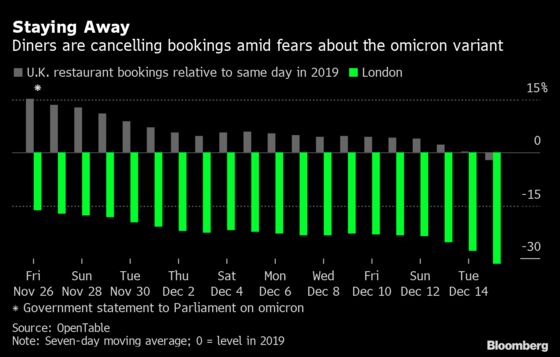 "We understand that this is a concerning time for businesses," Sunak said in the statement. He said he and his team had listened to the concerns of business "and will continue to work with industry leaders over the coming days."
The appeals for aid come as data show the U.K.'s economic recovery is losing momentum, with consumers curtailing spending on credit and debit cards into the second week of December, making fewer visits to stores, eating out less and reducing travel. Employers also posted fewer job adverts.
British pubs will sell 37 million fewer pints and lose out on 297 million pounds in trade this Christmas, the British Beer and Pub Association estimates.
With the Bank of England announcing a surprise interest-rate increase on Thursday to quell inflation, the pressure on Sunak to step in with fiscal support will only increase.
"In the short term the ball is with Rishi Sunak to help those hit hardest," said Carsten Jung, a senior economist at the Institute for Public Policy Research and a former BOE official. "But also I'd say in the medium term, we need a slight pivot from monetary stimulus to fiscal stimulus."
Sunak had been due to return on a flight Friday afternoon, but will now return on Thursday night, a person familiar with the plans said. He and his team spoke to businesses and industry groups including UKHospitality, the Confederation of British Industry, the British Chambers of Commerce, the Institute of Directors, Greene King Ltd., Whitbread Plc and Nando's.
The Treasury was in a listening mode during the call and made no promises of aid, according to three people with knowledge of the matter.
While Prime Minster Boris Johnson has stopped short of bringing in stringent rules on social mixing that have been used to fight previous waves of the virus, the Confederation of British Industry has warned of a "lockdown by stealth," as Britons steer clear of social gatherings. On Wednesday, Chief Medical Officer Chris Whitty urged Britons to prioritize social interactions that matter to them and de-prioritize others.
For now, the Treasury has held firm, arguing that measures in place already are sufficient. They include business rates relief and a VAT reduction that runs through March, in addition to the state-backed Recovery Loans program, which runs through June.
Earlier on Thursday, however, Treasury Minister John Glen dangled the prospect of more assistance for hospitality businesses. 
"We are in a very difficult and rapidly changing set of circumstances and it's important that ministers act," Glen told the House of Commons. He said he and Sunak will meet the industry "to see what more needs to be done." 
Glen said there's also still 250 million pounds ($331 million) of support available through its Additional Restrictions Grant program, with money allocated by local councils. Some three-quarters of local authorities have between 5% and 40% of their allocation left to distribute, he said.