Summers Worries U.S. Tax Cuts May Lead to Financial Trouble
(Bloomberg) -- Terms of Trade is a daily newsletter that untangles a world threatened by trade wars. Sign up here. 
Reductions in the U.S. corporate-tax rate in 2018 didn't result in much more investment, said former U.S. Treasury Secretary Larry Summers, who is concerned about the economy running into "financial trouble."
"There is no evidence of any kind that we have seen any substantial increase in investment because of cutting the corporate tax rate to 21%," Summers, who was Treasury secretary under President Bill Clinton and White House economic adviser to President Barack Obama, said in an interview on Bloomberg Television's Wall Street Week to air Friday at 6 p.m. in New York. "I'm more worried that we'll get ourselves into financial trouble again some time in the next several years than I have been any time in a very long time."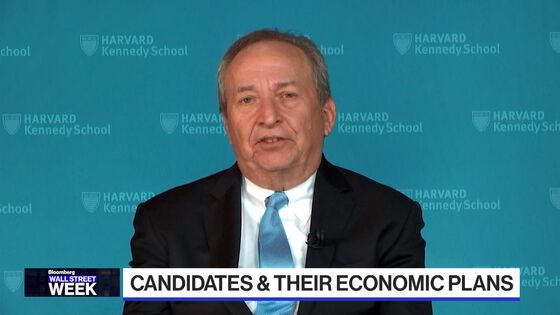 In 2017, Republicans passed legislation that trimmed the top corporate tax rate from 35% and it's now at 21%. In 2018, the reductions, coupled with higher spending, helped extend the U.S. economy's expansion in the years since the financial crisis.
The U.S. budget deficit is poised to exceed $1 trillion under President Donald Trump, even as he had promised to eliminate it. It could swell even further if Democrats win the Oval Office in November, as leading candidates are pitching voters with spending plans that would add billions more.
The Trump administration is focused on providing another round of tax cuts to the middle class as early as 2020, but the reduction is not intended as a stimulus to ward off a downturn, Larry Kudlow, the current White House economic adviser, said in September. Trump will announce "tax cut 2.0" proposals during his re-election campaign, he said Feb. 4 on Fox Business.
Summers doesn't favor fiscal proposals announced by Democratic presidential candidates like Bernie Sanders and Elizabeth Warren, who have floated trillions of dollars in tax increases to pay for universal health care.
The approach "acts like there's no constraint on how much the government can spend, that the government can add up its spending by literally tens of trillions of dollars," he said. "That there's no limit to how high the taxes that can be placed on affluent people are. That thinks the only issue is tearing down the people who are most successful in our country. I don't think that's nearly as productive an approach."
Summers, who is a paid contributor for Bloomberg Television, said more needs to be done to share success.
"But is the objective to really regard somebody who does enough stuff to make $1 billion almost a criminal as Senator Sanders suggests? I don't think those are the values of the American people. I don't think those are values that will help our economy succeed."