Sugar Deficit to Narrow on Indian Output, Green Pool Says
(Bloomberg) -- The sugar market deficit will narrow next season as Indian production rebounds, according to Green Pool Commodity Specialists.
The deficit will narrow to 1.01 million tons in 2020-21, Green Pool said in its first estimate for next season. The researcher increased the size of its projected deficit for 2019-20 to 6.63 million tons.
Green Pool said its outlook for a much smaller deficit next season may disappoint some market bulls, who helped push raw sugar prices to a two-year high on Monday. Plantings in the Indian states of Maharashtra and Karnataka could generate a record crop, after output was hurt by drought and flooding.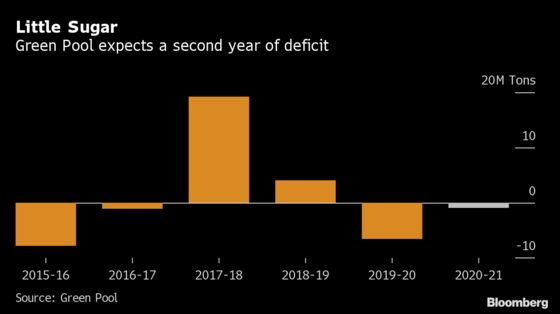 India will bounce "back strongly from this harvest's problems," said Tom McNeill, director at Brisbane, Australia-based Green Pool. "Unless there is a monsoon failure or some crop disease issue, it seems that farmers have voted with their feet for the best returning crop in India – sugarcane."
Green Pool said higher prices could boost 2020-21 output from Brazil's Center-South region above its currently projected 27.5 million tons. That could flip the global market into a surplus, the researcher said.
Green Pool 2020-21 Sugar Output Forecasts
India: 32 million tons
Center-South Brazil: 27.5 million tons
Thailand: 12.8 million tons
European Union: 15.79 million tons