Stuck Between Trump and China, Taiwan Bets on Homegrown Defense
(Bloomberg) -- Anson Liao once clocked some 2,600 hours patrolling Taiwan's skies in foreign-made fighter jets, within sight of the Chinese mainland. Now Liao is pushing for the island to make its own military hardware as questions about the reliability of the U.S. intensify under President Donald Trump.
Liao is chairman of the government-backed Aerospace Industrial Development Corp., which secured a state commission last year to build 66 advanced trainer aircraft. The producer of Taiwan's multi-role Indigenous Defense Fighter jet faces a new sense of urgency as China ramps up "encirclement patrols" around the democratically run island, which it considers a province.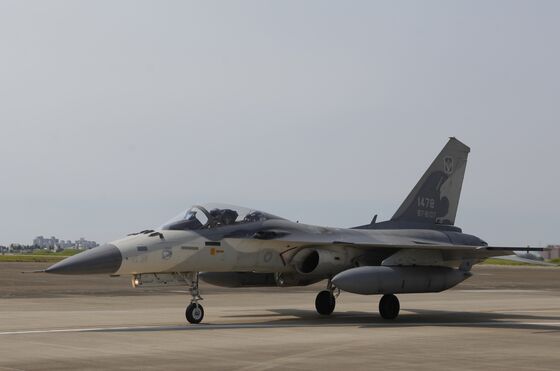 "We're aiming to be as self-sufficient as we can in our defense capability," Liao said last month at his office in Taichung city, on the western coast opposite China, as air force jets flew noisily overhead practicing for an airshow. "Self-reliance shows we're determined to defend ourselves. It helps keep the region stable and it's in line with the interests of the U.S."
China cut off formal communication with Taiwan and stepped up military exercises in the area after the island elected President Tsai Ing-wen from the pro-independence party in 2016. While the U.S. government has recently moved to bolster the island's defenses amid its trade war with China, conflicting signals from Trump have given Taiwan pause about being too dependent on foreign support.
After initially angering Beijing by taking a congratulatory phone call from Tsai after his election, Trump later recanted, saying he would have to consult Chinese President Xi Jinping before a second exchange. Journalist Bob Woodward's newly released book "Fear: Trump in the White House" cites a January 2018 exchange with national security advisers in which the president asked: "What do we get out of protecting Taiwan?"
Tsai has increased Taiwanese military drills since taking office and in August she proposed raising the 2019 defense budget to NT$346 billion ($11.3 billion), or about 2.16 percent of gross domestic product. Besides the fighter jets, the government has contracted Taiwan's CSBC Corporation to deliver its first indigenous diesel-electric submarine by 2024, after more than a decade of fruitless talks with the U.S.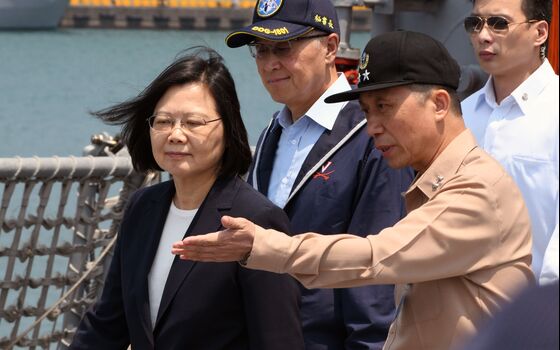 Still, the task she faces is daunting. China spends more than 20 times on defense than Taiwan and commands one of the world's largest navies. Tsai has well fallen short of calls to expand the defense budget to 3 percent of GDP, which would require a roughly 50 percent increase in spending.
Taiwanese Foreign Minister Joseph Wu told Bloomberg News last month that U.S. support was "very strong." He dismissed concerns that Trump might use ties with the island as leverage in the trade war, saying, "I just don't worry that Taiwan is going to become a chip to be negotiated with by the U.S."
Tsai's focus on building a stronger defense industry follows decades of frustration with the scale and drawn-out process of American arms sales, which the U.S. has continued under the Taiwan Relations Act despite severing formal ties with Taipei in 1979.
Taiwan's requests for a wide range of American hardware and electronics -- from smart mines and armed drones to longer-range cruise missiles, and Lockheed Martin Corp. F-35 fighter jets -- haven't been met.
But there have been recent signs of progress. Trump in July signed the 2019 National Defense Authorization Act, which orders the Department of Defense to assess Taiwan's military forces and provide recommendations. The administration let U.S. companies share some submarine technology with the island and approved legislation that would allow high-level visits by U.S. officials.
The U.S. State Department on Monday approved a $330 million sale of spare parts for several of Taiwan's military aircraft, drawing a rebuke from China. The package -- Taiwan's smallest stand-alone purchase in 11 years -- signaled a shift from complex multi-billion-dollar deals every few years to smaller, more regular sales.
"Unbundling arms sales to Taiwan may seem like a mere technical issue, but it is actually big deal," said Ian Easton, a research fellow at the Washington D.C.-based Project 2049 Institute. "For the past 11 years, the timing of arms sales notifications has been held hostage by the U.S.-PRC diplomatic calendar and fears of Beijing's potential reaction, resulting in freezes and delays of sales that lasted for years."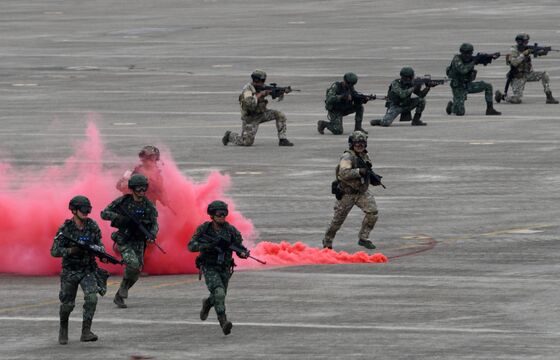 An annual Pentagon report released in July said that the People's Liberation Army had already "eroded or negated many of" the island's traditional advantages, including technological superiority and the challenges of projecting force across the 145 kilometer (90 mile) Taiwan Strait.
The PLA has demonstrated its growing reach by sending military planes and its first aircraft carrier on excursions around the island. Chinese fighter jets, bombers and surveillance planes flew around Taiwan's east coast more than 20 times last year, up from four trips in in 2016, according to defense ministry statements and local media reports.
"The eastern part of Taiwan could become a potential military target," said Lin Cheng-yi, president of Taipei's Institute for National Defense and Security Research. "Beijing is trying to send a political signal. It's psychological pressure."
Although China has never disavowed the use of force against the island, the ruling Communist Party says it's committed to "peaceful reunification" and most defense analysts believe it would only take military action in response to some shift within Taiwan. The Chinese government has offset its military signaling with economic incentives to underscore the benefits of closer ties.
Tsai's response has been two-fold: Quietly build the capability to make any attack too costly for China without provoking direct action by Xi. And take advantage of U.S. gestures of support for the island -- for as long as they last.
"Our self-defense doesn't depend on a U.S. response," said former Defense Minister Andrew Yang, secretary-general of the Chinese Council of Advanced Policy Studies in Taipei. "We have to make sure we can hold on to our position and also deter or even defeat any use of force."