Strong U.K. Wage Growth Continues Amid Tight Labor Market
(Bloomberg) -- British workers are enjoying a resurgence of bargaining power as labor shortages leave employers struggling to fill jobs.
Basic pay rose an annual 3.3% in the first quarter, close to the fastest pace since 2008, Office for National Statistics figures published Tuesday show. Pay including bonuses rose 3.2%. Wage growth was less than 3% a year ago.
The increase came as the number of people in work rose by 99,000, taking the jobless rate to a 44-year low of 3.8%. The employment rate stayed at a record high of 76.1%.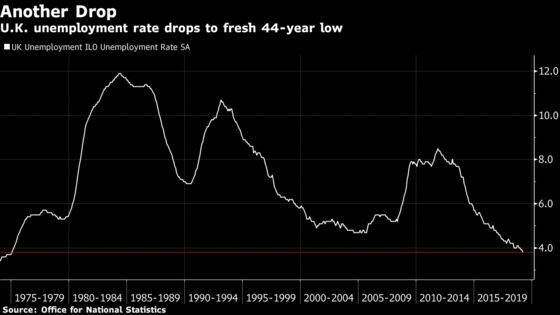 A buoyant labor market helps to explain the resilience of consumer spending, which along with Brexit stockpiling drove the economy last quarter. Wage growth is now easily outpacing inflation, which averaged less than 2% between January and March.
Companies are failing to increase productivity at the same pace, however, with separate figures showing that output per hour was 0.2% lower than a year earlier. The result is that unit labor costs, a measure of domestically generated inflation, are accelerating. But for the Brexit cloud hanging over the economy, the Bank of England might now be raising interest rates.
There was some good news for firms facing labor shortages as the number of EU nationals working in the U.K. rose to a record-high of 2.38 million, despite Brexit. The 98,000 gain from a year earlier was driven by Bulgarians and Romanians, with little increase among citizens of older EU countries and those that joined in 2004.
Employment has been fuelled by a sharp fall in economic inactivity. Full-time work accounted for all of the 354,000 jobs created in the past year, with growth especially strong among women and the over-50s.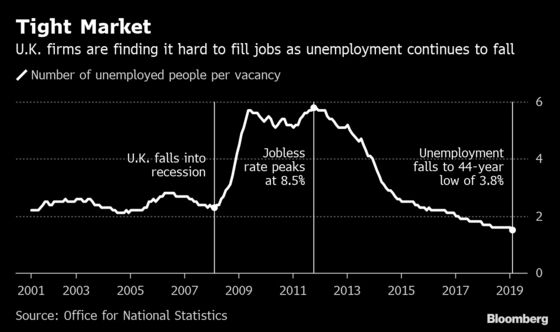 While the increase last quarter marked a slowdown from the stellar gains seen around the turn of the year, it may have been partly due to a lack of suitable candidates. The ratio of unemployed people to vacancies fell to 1.5, compared with almost six in 2012.