Strong Economy, Softer Touch Keep Hong Kong's Leader Above the Fray
(Bloomberg) -- A year into her tenure as Hong Kong's chief executive, Carrie Lam has so far avoided the public strife that dogged her predecessor and former boss, Leung Chun-ying. One big reason: She's not Leung.
Since taking office July 1 in a ceremony presided over by Chinese President Xi Jinping, Lam, 61, has managed to bring a less confrontational tone to the former British colony without straying far from Beijing's agenda. City residents give her a job approval rating of 54.3 out of 100, according to University of Hong Kong surveys, compared with 46.4 for Leung at the same point in his term.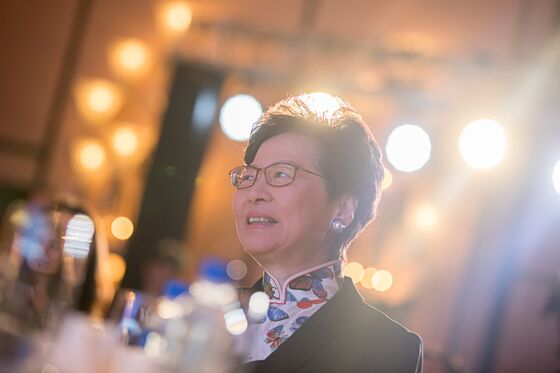 "Carrie Lam has adopted a soft-hard approach," said legislator Alvin Yeung, leader of the opposition Civic Party. "She doesn't get into fights like C.Y. Leung did, she employs relatively soft language and that leaves a positive impression with the general public. But if you look at the politics, she is absolutely loyal to Beijing."
Case in point: Lam began her term last year promising more frequent meetings with lawmakers and taking a veiled swipe at Leung, whom she served as top aide for five years. In subsequent months, she backed an official's decision to a bar young activist from running for the city's legislature because an official deemed her calls for "self-determination" as an illegal separatist platform.
Lam has also advanced controversial Beijing-backed proposals to let Chinese agents operate at a local high-speed rail terminus, start incorporating Hong Kong into a regional development plan and approve a satellite campus for the capital's Palace Museum. Lam was elected in March last year by a committee of 1,200 insiders stacked with Beijing loyalists.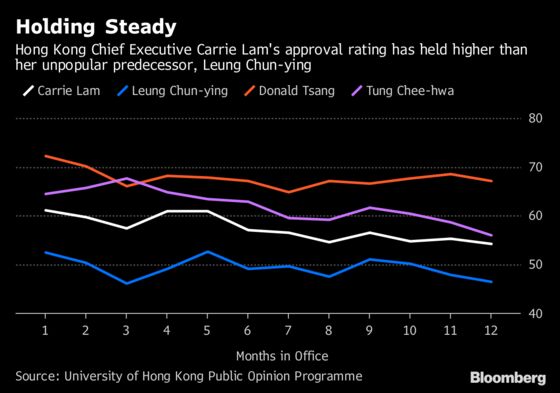 Lam's efforts to avoid a repeat of the mass democracy protests that gripped the city in 2014 have been helped by a booming economy that has allowed her to splurge on popular programs. The city's gross domestic product expanded by 4.7 percent in the first quarter, the fastest pace in almost seven years. And unemployment is at a two-decade low.
Still, there are reasons to think the honeymoon might not last. Lam's approval rating already lags those of the Hong Kong's first two post-colonial executives, Tung Chee-hwa and Donald Tsang.
Rising U.S. interest rates could force Hong Kong to tighten monetary policy thanks to its pegged currency, during a year in which the benchmark Hang Seng Index has fallen 4.8 percent amid worries about President Donald Trump's tariff threats. Meanwhile, the local property market -- the world's least affordable -- continues to defy government cooling efforts.