Strike Hits India as Opposition Unites Over Record Fuel Prices
(Bloomberg) -- India's opposition parties for the first time observed a nationwide strike over soaring fuel prices and a declining currency, harnessing public anger over deepening cost pressures just seven months out from a national election.
Violence erupted in Bihar, Maharashtra and other states as protesters damaged vehicles and burned tires, while trains and bus services were disrupted and schools and shops were closed in other parts of India.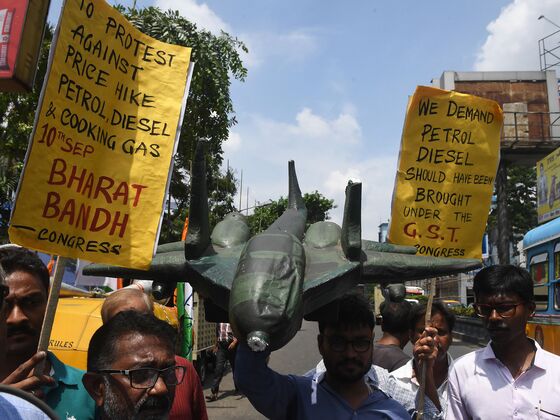 Rahul Gandhi, president of the main opposition Congress party which called the strike, lead the protest march in capital New Delhi, but the disruption was felt mostly in states ruled by regional parties.
"It has been four years and the people are able to see clearly what the BJP government has done," Gandhi told a protest gathering, blaming policies of Prime Minister Narendra Modi's Bharatiya Janata Party-led government and criticizing his silence on issues including petrol and diesel price rises. "What the country wants to hear, what the youth want to hear, the prime minister does not talk about it. The country is fed up with seeing him."
Fuel prices have been rising in the fastest-growing oil consuming nation over the past few weeks. Pump prices of gasoline and diesel are at record because of the sliding rupee and firming crude oil prices. Gasoline is priced at 80.73 rupees a liter in New Delhi today, while diesel costs 72.83 rupees.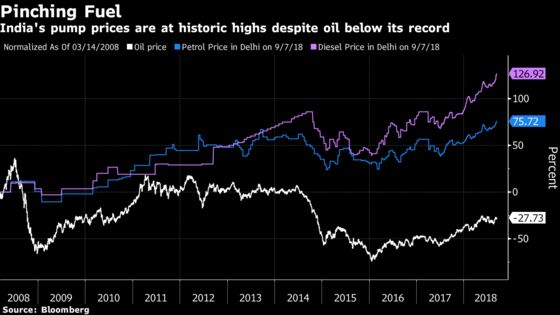 Monday's strike was a show of strength by the Congress party, which is trying to unite opposition parties against Modi ahead of general elections, and could set the stage for the formation of a formal opposition coalition.
The Congress party has been stepping up offensive against the government, pushing issues including depreciation of Indian currency against dollar, alleged improprieties in the purchase of Rafale fighter aircraft and the impact of the 2016 ban on 86 percent of the country's cash. Modi's administration has also been facing protests from students, farmers, trade unions and Dalits, once known as 'untouchables.'
"The BJP strongly believes despite some momentary difficulties, the people are not supporting the strike. And that is unnerving Congress party and opposition," said Law Minister Ravi Shankar Prasad, adding rising fuel prices are caused by global factors. "We are with the sufferings of the people and we are trying to resolve it."