Strategist Cited by Trump Wants a Careful, but Independent, Fed
(Bloomberg) -- "Now I'm totally awake!" exclaimed Scott Wren as his phone rang off the hook at 9:00 a.m.
This wasn't a typical Tuesday morning for the senior equity strategist at Wells Fargo Investment Institute Inc. First, he appeared on Fox Business Network to discuss U.S. markets and the economy. Shortly thereafter, President Donald Trump quoted him in a tweet, seemingly endorsing his thoughts on what it would take for stocks to recover.
Trump "must've been watching, or someone in his entourage was watching," Wren said in a telephone interview.
The S&P 500 Index closed nearly 10 percent off its record high on Monday, a sell-off in part spurred by rising longer-term Treasury yields as traders re-evaluated how high the central bank would raise rates during this tightening cycle.
Trump has criticized the Federal Reserve and Chair Jerome Powell numerous times, especially after downturns in the U.S. stock market. He has even called the Fed his "biggest threat" for withdrawing stimulus at a pace he thinks is too fast.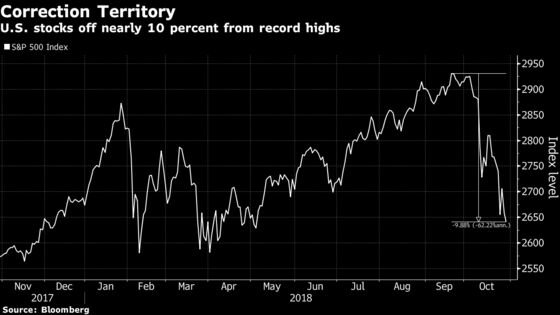 Wren does think the Fed has been a driver of market moves. He said that Powell's remark on Oct. 3 -- "we are far away" from a neutral level of interest rates -- was "one of the triggers" for the October swoon in U.S. stocks. Wren also said buoyant economic data might elicit a more aggressive response from the Fed, and suggested rooting for "good" data, not "great."
"They need to be careful here," Wren said of the Fed.
But a dovish turn by the Fed isn't the only potential positive catalyst the strategist had in mind. If there's a "whiff" of progress between Trump and Chinese President Xi Jinping on trade talks, "the market is going to like that too," he added.
At the same time, Wren isn't necessarily a fan of the president using his bully pulpit to take on monetary policymakers.
"I'm a firm believer that the Fed needs to be independent and not subject to political pressure," he said.