Storm Effects or Not, 3% U.S. Pay Gains Will Be the New Normal
(Bloomberg) -- Investors likely need to get accustomed to a new normal in U.S. pay gains even if this week's milestone in wage growth will partly stem from hurricane-related distortions.
Analysts project average hourly earnings in October rose 3.1 percent from a year earlier, which would be the biggest gain in nearly a decade and the first breaching of 3 percent since April 2009.
The data, due Friday in the Labor Department's monthly employment report, will reflect several weather events: Hurricane Michael in Florida probably kept lower-paid workers in leisure and hospitality from their jobs, and it's also payback from a year ago, when those people were back at work following storms including Irma.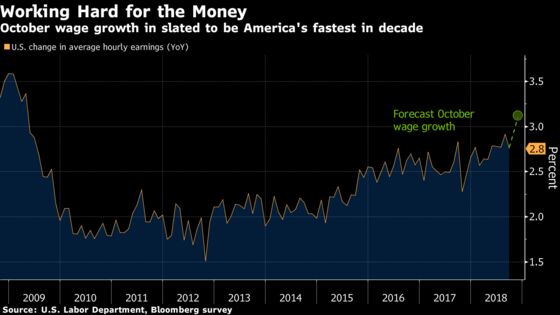 Even so, breaking through 3 percent has the potential to cause more palpitations in financial markets, which tend to view such gains as supporting Federal Reserve interest-rate hikes that are negative for equities: U.S. stocks on Wednesday concluded their worst month since 2011, after weeks of wild swings that ended with a two-day surge.
It will also be the final jobs report ahead of Tuesday's midterm elections that decide control of Congress, potentially handing President Donald Trump and fellow Republicans another economic feat to tout as they seek to limit what forecasters see as likely Democratic gains.
Beneath the storm distortions, economists say pay gains are indeed picking up -- albeit very slowly -- and will hold at 3 percent for the foreseeable future: They're projected to hit 3 percent in the fourth quarter and get to 3.1 percent by the third quarter 2019, a Bloomberg survey shows. A separate Labor Department report on Wednesday showed private-sector wages and salaries rose 3.1 percent in the 12 months through September, the best pace since 2008.
While the latest data will reflect storm effects, "you are seeing a slow grind upward" in pay, said Brett Ryan, U.S. economist for Deutsche Bank Securities Inc. "Where the labor market is in terms of tightness and the unemployment rate, you would have been expecting way higher wages, but we haven't gotten there for a variety of reasons. But the upward trend is clear."
The jobs report will probably show other signs of strength in the labor market: Employers added 200,000 workers to nonfarm payrolls, rebounding from September's 134,000 and close to this year's average of 208,000; and the unemployment rate held at 3.7 percent, the lowest since 1969, according to a Bloomberg survey of economists.
The market turmoil has spurred bond traders to reprice the inflation outlook. The five-year inflation break-even rate, a gauge of the market's expectations for consumer-price growth, in October slipped below 1.90 percent to near its lowest level this year.
With investors especially sensitive to the Fed interest-rate outlook now, "the report could aggravate the market on two fronts," if wages are stronger than expected or if the jobs number is weak, said Jim Paulsen, chief investment strategist at Leuthold Weeden Capital Management LLC. Or as Miller Tabak + Co. equity strategist Matt Maley said: "You need it just right."
Economists have anticipated some acceleration in wages as the labor pool shrinks, with employees being consistently snapped up each month -- the theory is that firms seeking workers will need to pay more to recruit and retain people.
What Our Economists Say
Once again, analysts should refrain from casting judgment on the health of the labor market without taking into consideration weather-related absences and hours curtailment, both of which showed significant deviations from the norm in September. If the October results are also atypical, analysts should downplay the significance of the headline payroll change.

-- Carl Riccadonna, Yelena Shulyatyeva and Tim Mahedy, Bloomberg Economics
While the lack of widespread gains to date has puzzled analysts, there are signs that wage increases are taking hold more firmly: For example, Amazon.com Inc. is raising its minimum hourly wage to $15 for U.S. employees effective Thursday. J.B. Hunt Transport Services Inc., and retailers Costco Wholesale Corp. and Target Corp. are among companies that have either promised or delivered higher wages.
Any celebration may need to wait: Tariffs and uncertainty over Trump's trade war appear to be restraining corporate spending and expansion, while gradually rising inflation is also eating into wages.
The wage bump would need to be sustained before the Fed gets worried about inflation running too hot, Deutsche Bank's Ryan said, but markets may have a different take. Traders and investors would see a high wage reading as potentially spurring a faster pace of rate hikes, according to Michael Gapen, Barclays Capital Inc. chief U.S. economist.
The Fed is widely expected to raise interest rates in December for the fourth time this year, but the incoming data will help determine how many more moves they make in 2019.
"A couple weeks ago, markets were forecasting three more wage hikes on average out of the Fed, now they're kind of forecasting around two -- so you could get the market to move back in the other direction," Gapen said by phone. "I don't think this report alone does it unless it beats expectations."