Stocks Deliver Big Victory by Doing Nothing
(Bloomberg Opinion) -- The history books will show that U.S. stocks ended little changed on Tuesday, with the MSCI USA Index gaining a barely perceptible 0.26 percent. But for investors, the bigger takeaway is that stocks largely held on to their gains from Monday, when they posted one of the biggest mini-rallies since the broader sell-off started in early October. That's a very encouraging sign for bulls, given the number of potentially negative developments that could have easily sent equities tumbling. 
Perhaps the biggest factor working against stocks was an interview President Donald Trump gave to the Wall Street Journal late Monday. In it, he said he'll likely push forward with plans to increase tariffs on $200 billion of Chinese goods if t alks with China's leader Xi Jinping later this week at the group of 20 summit in Argentina fail to produce a trade deal. Trade is undoubtedly important, but the amounts are a pittance relative to the $19.4 trillion U.S. economy. More importantly, consumers — whose spending accounts for about two-thirds of the economy — are shrugging off the correction in equities. The Conference Board said Tuesday that its consumer confidence index dipped just 2.2 points to 135.7 in November from an 18-year high of 137.9 in October. As long as consumers are feeling pretty good, then it's possible that investors will have greater confidence in corporate earnings actually growing about 11 percent next year as forecast. Although that's lower than this year's projected gain of 27 percent, it still would be an impressive result this late in the economic cycle. That's why so many market participants are scratching their heads over the swift contraction in price-to-earnings multiples.
The strategists at Richardson GMP figures that the S&P 500 Index's 12-month forward P/E ratio has dropped from 18.2 to 15.1, offsetting "all the positive benefits of earnings growth and dividends so far in 2018." Put another way, the drag on the S&P 500 from the change in the market's P/E ratio is the biggest since 2002 —  bigger than even 2008. "But remember the market multiple contribution in the long term is a zero-sum game and often, a big negative contribution is followed by a large positive one," the strategists wrote in a research note Tuesday.
BOND BULLS MAKE AN APPEARANCE
That's not to say the economy isn't facing more pressure than it has in recent memory. The widely followed Federal Reserve Bank of Atlanta's GDPNow index, which aims to track growth in real time, shows the economy is probably expanding at about a 2.49 percent rate this quarter, a big deceleration from the 3.5 percent pace in the third quarter and the 4.2 percent clip in the second quarter. Also, it's never a good sign when one of the wealthiest counties in the U.S. gets its credit rating cut. New York's Westchester County, where the average property-tax bill last year was a nation-leading $17,179, was downgraded to AA+ from AAA by S&P Global Ratings on Tuesday. That helps to explain why investors are finding bonds appealing again. The Treasury Department sold $40 billion of five-year notes Tuesday, attracting bids for 2.49 times the amount offered, the highest bid-to-cover ratio for that maturity since the August auction. A weekly JPMorgan Chase & Co. survey shows investors have been net bullish on U.S. Treasuries for two consecutive weeks, the first time that has happened since October 2016. Lower bond yields will go a long way toward bolstering investor confidence in riskier assets.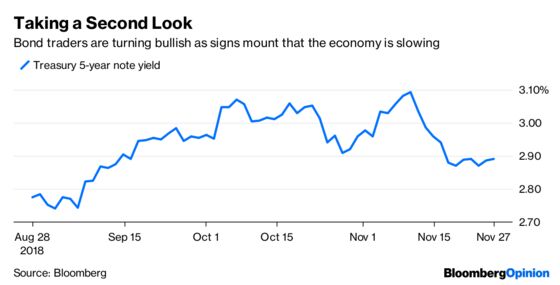 DIMMING  DOLLAR PROSPECTS
The Bloomberg Dollar Spot Index, which tracks the greenback against its major peers, rallied for a third straight day and put the gauge back in sight of its highest level since May 2017. Yes, the euro is suffering from a weak euro-zone economy, and the pound isn't sure what it wants to do with all the uncertainty over Brexit, but the dollar's rally still seems a bit unjustified, especially with all the speculation that the Fed is poised to slow the pace of interest-rate increases. JPMorgan Asset Management, which oversees $1.7 trillion, sure feels it's unjustified. The firm says a dollar slump is on the horizon in 2019, and it could last for years amid a cooling U.S. economy and a potential pause in the Fed's rate-hiking cycle, according to Bloomberg News's Sydney Maki. "Ultimately, the trajectory is for a downward move in the dollar over a multi-year period," Gabriela Santos, a global market strategist at JPMorgan Asset Management, told Maki in an interview. "In the second half of next year, if the Fed did indeed pause, if the U.S. economy were decelerating, if the rest of the world stabilized or improved a little bit, you could see how the dollar could fall." A falling dollar has many benefits, not the least of which is that it helps make U.S. exporters more competitive. That should give investors more confidence in the outlook for corporate earnings.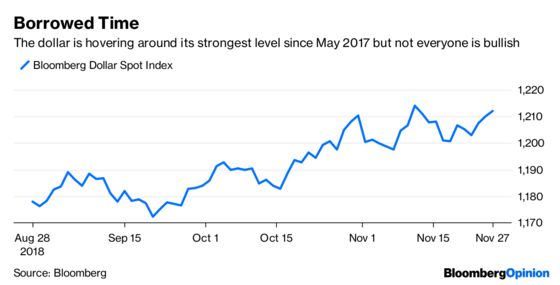 EMERGING-MARKET MILESTONE?
Just three trading days are left in November, and barring a major surprise, emerging-market equities will accomplish something that they haven't been able to do since 2016. That is, the MSCI Emerging Market Index is poised to deliver a positive return while the broader MSCI All-Country World Index of global stocks drops. The EM index is up 2.54 percent this month, while the MSCI All-Country is down 0.69 percent. It's been a tough year for emerging markets, and this rebound may just end up being a "dead-cat bounce," but it's hard to miss how so many influential investors and strategists are recommending emerging markets, including those at Goldman Sachs Asset Management and BlackRock Inc. As this space pointed out Monday, money is flowing back into U.S.-listed exchange-traded funds that invest across developing nations, as well as those that target specific countries. As with Treasuries, part of the reason for the bullishness is the notion that the Fed may soon slow the pace of rate hikes. The meeting between Trump and Xi may go a long way toward determining whether the rebound is fleeting or just getting started. "Any hint of cooperation between the U.S. and China toward stemming the tit-for-tat tariff escalation would be a major boost for market sentiment going into year-end," Paul Greer, a money manager at Fidelity International in London, told Bloomberg News.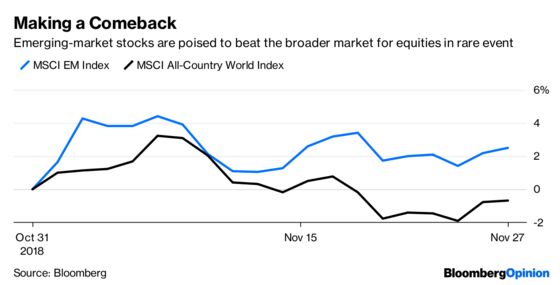 PALLADIUM BUCKS THE TREND
Rare is the commodity that is showing a gain this year. Palladium is one of the exceptions. The metal rallied on Tuesday, bringing its gain for the year to 8.23 percent. By comparison, the Bloomberg Industrial Metals Subindex is down almost 19 percent. Palladium has benefited from growing political tensions between the U.S. and Russia, one of the top producers of the metal. More broadly, the metal has been supported by consumers turning toward gasoline cars, which tend to use more palladium in autocatalysts, instead of diesel. Output will trail demand by 481,000 ounces this year and deficits will persist through 2020, leading to the "tightest" market in two decades, Citigroup Inc. strategists wrote in a research note in late September. As such, money managers have a net 13,400 contracts betting on gains in palladium, the most in eight months, weekly CFTC data on futures and options show. In another sign of how in-demand palladium is these days, prices for the metal are closer to those of gold than any time since 2002.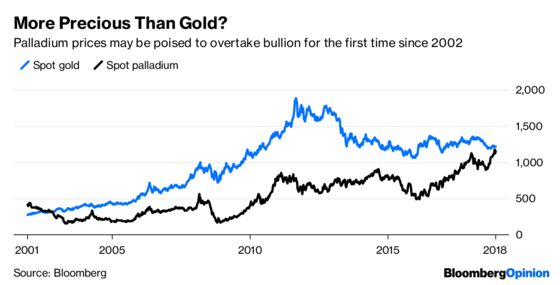 TEA LEAVES
In many ways, the turmoil in stocks can be traced to a speech Fed Chairman Jerome Powell gave on Oct. 3 at an event in Washington hosted by The Atlantic magazine and the Aspen Institute. Up to then, the S&P 500 was up 9.2 percent for the year. Since then, it has fallen 8.32 percent. Powell got markets in a tizzy when he said the central bank may push rates beyond "neutral" to a level that restricts economic growth. "But we're a long way from neutral at this point, probably," he added, signaling there would be many more rate hikes on the table. Powell has softened the rhetoric a bit since then, and many chalked the comments up to a "rookie mistake" by the Fed Chairman, who took over as head of the U.S. central bank early this year. Markets may find out whether that was the case Wednesday, when Powell gives a lunchtime speech to the Economic Club of New York.
This column does not necessarily reflect the opinion of the editorial board or Bloomberg LP and its owners.
Robert Burgess is an editor for Bloomberg Opinion. He is the former global executive editor in charge of financial markets for Bloomberg News. As managing editor, he led the company's news coverage of credit markets during the global financial crisis.