Stock Market Sell-Offs Are a Lot Like Cockroaches
(Bloomberg Opinion) -- Any responsible homeowner would immediately call an exterminator upon seeing a cockroach because, as everybody knows, there's never just one. In many ways, it's the same with stock market sell-offs — there's never just one.
Following the big declines in the U.S. equities market in the middle of last week, stocks recovered Friday and Tuesday and were little changed Wednesday, fostering optimism that the worst was over. But as Thursday showed, with the S&P 500 Index dropping as much as 1.92 percent, the path of least resistance at the moment is lower. It may seem odd that the slide is coming with companies poised to say that third-quarter earnings rose an average of about 20 percent from a year earlier, but investors look forward and many are starting to focus on 2019 already. What they are seeing is a much more benign environment for earnings, with profit growth decelerating to a 9 percent rate for members of the S&P 500, according to Bloomberg Intelligence. So the big question for investors is whether they want to continue to pay about 20 times earnings for profit growth that will only be about half of what it was this year with rising interest rates, or should stocks be valued more like they were in 2012 and 2013? That was a more normal period for earnings growth with price-to-earnings multiples around 15. "The forward outlook doesn't provide a confident landscape for investors, as growth levels in 2019 continue to move lower and 2018 appears to have marked a near-term peak," equity strategists at Bloomberg Intelligence wrote in a research note.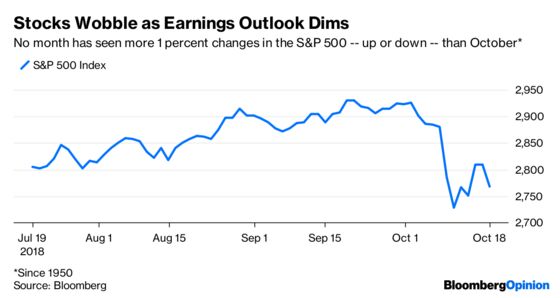 Even beyond the fundamentals there is a lot for investors to be nervous about. Going back to 1950, no month has experienced more 1 percent changes in the S&P 500 — up or down — than October, according to LPL Research. So far this month there have been five such moves —  two up and three down. Plus, volatility ahead of key elections is not unusual. Ahead of the November 2016 presidential election, the S&P 500 fell nine consecutive days in one of its longest losing streaks ever, LPL also noted. "Like every other spurt of volatility, it's hard to give an exact reason, but we have all the usual culprits: concern about global trade, earnings season and companies potentially staring down the barrel of another tariff maybe over the winter," Kevin Caron, a senior portfolio manager at Washington Crossing Advisors, told Bloomberg News. "It's a hodgepodge. You have all these things that come together at the same time."
ITALY TAKES ON BRUSSELS AND TRADERS LOSE  
One of those "hodgepodge"of things that Caron didn't mention but has market participants nervous nonetheless is Italy. Italian bonds and stocks tumbled Thursday as the European Commission said Italy's spending plans are excessive and asked for an explanation, the first step in what threatens to become a full-blown standoff between Brussels and Rome, according to Bloomberg News. Italy is one of the world's five biggest debtors, with $2.27 trillion of government bonds outstanding. So  investors are clearly nervous that Italy's plans to spark its economy by allowing its budget deficit to exceed the European Commission's 2 percent guidelines could cause the nation's credit rating to fall perilously close to "junk." Such an event has the potential to roil global markets. Investors are demanding an extra 3.27 percentage points in yield to hold Italy's 10-year bonds instead of similar maturity German bunds, the most since April 2013. The increase in the yield premium spilled over elsewhere, with Italy's FTSE-MIB Index of shares extending its losses to tumble 1.9 percent at the close. Yield spreads of other peripheral economies widened, too, with the difference between benchmark notes in Spain and Germany touching the widest since May. "Centralized budget rules work only so long until they impose too much constraint on European sovereignty," Ben Emons, the chief economist at Intellectus Partners LLC, wrote in a research note. "And that is why national parliaments across Europe have seen a shift to a far right or left. But it is also a reminder of why national sovereignty causes repetitive volatility in European assets."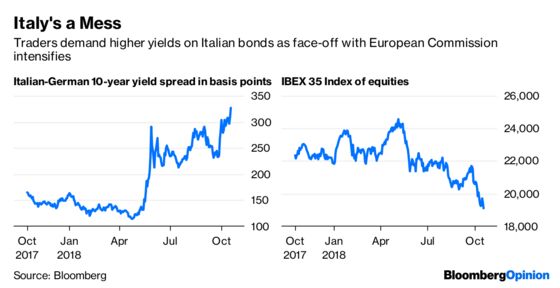 CHINA IS GETTING MORE WORRISOME
Also among the "hodgepodge" of things weighing on investor sentiment is China. Just because the U.S. Treasury Department declined this week to label a China currency manipulator doesn't mean tensions between the world's two largest economies are easing. In fact, there's a general sense that China will feel emboldened to allow its currency to weaken further to support exporters that have become the target of U.S. tariffs. "There was a minority in the market who bet China would want to aggressively resist yuan depreciation to avoid being called a currency manipulator," Frances Cheung, head of macro strategy for Asia at Westpac Banking Corp. in Singapore, told Bloomberg News. "The Treasury report means that bet is off. We think China would be comfortable with more weakness as long as it's driven by the strong dollar." China is walking a tightrope because if it allows its currency to weaken too far, too fast, it could spark a flight of capital that causes the yuan to fall even more and turn into a full-blown currency crisis that officials can't contain. Those concerns were on full display Thursday as the yuan touched its weakest level in almost two years and the Shanghai Composite Index tumbled 3 percent to an almost four-year low. With $603 billion of shares pledged as collateral for loans, or 11 percent of China's market capitalization, one concern is that forced sellers will tip the market into a downward spiral, according to Bloomberg News. The drop in the Shanghai gauge from its peak is the biggest among 94 global benchmarks tracked by Bloomberg, including Greece and Argentina. The Chinese benchmark is also growing more volatile, registering at least three declines of more than 2.5 percent since markets resumed trading on Oct. 8 after National Day holidays.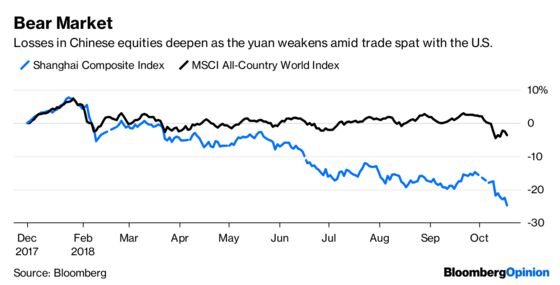 AT LEAST BOND TRADERS HAVE CALMED DOWN
The silver lining in all of this is the U.S. Treasury market. Yields on benchmark 10-year notes have been little changed over the last week after surging since late August in a move that contributed to the weakness in U.S. equities. Yields fell as much as 4 basis points to 3.16 percent Thursday, just about erasing all of the increases from Wednesday — a rise that was sparked by the release of the minutes from the Federal Reserve's September monetary policy meeting suggesting policy makers have a more hawkish outlook than many expected. Despite the Fed's tough talk and desire to get benchmark rates to a "neutral" level, nobody really believes that it will continue to plow ahead with its once-a-quarter rate hiking schedule if financial markets deteriorate further and cause widespread pain. After all, it's not as if inflation expectations are surging. In fact, they are diminishing. Breakeven rates on five-year Treasuries — a measure of what traders expect the rate of inflation to be over the life of the securities — fell to 1.97 percent on Thursday, the lowest since early September and down from 2.07 percent just two weeks ago. "The risk that normalizing becomes true tightening and slows the real economy into 2020 is becoming ever more topical," the top-ranked rates strategists at BMO Capital Markets wrote in a research note Thursday. In another positive for bonds, there are signs that international investors haven't lost their appetite for U.S. debt. The U.S. Treasury Department's monthly report on foreign ownership of U.S. Treasuries released Tuesday showed that those outside America increased their ownership of U.S. government bonds in August by $35.5 billion after boosting them by $39.8 billion in July. It was the first back-to-back increase since September and October of 2017.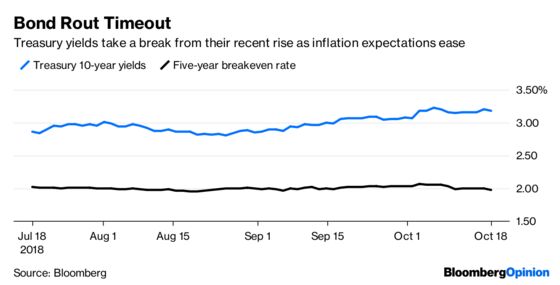 HOUSING SLOWDOWN HITS COPPER AND LUMBER
President Donald Trump likes to say that the U.S. economy under his watch is the strongest in history. That's certainly debatable, but it's true that the economy is in good shape — except for one key sector. The bond market sell-off has pushed 30-year mortgage rates above 5 percent for the first time since 2011, according to the Mortgage Bankers Association. That's making housing less affordable and weighing on sales and starts. The National Association of Realtors is forecast to say Friday that existing home sales fell 0.9 percent in September to the slowest pace since February 2016. Housing is such a big part of the economy that its softness is weighing on important parts of the commodities market, especially copper. Copper, which is used in pipes and wiring and was already down 17.1 percent this year amid a strong dollar and the potential for the U.S.-China trade standoff to curb global economic growth, fell 1.67 percent on Thursday as equity analysts lowered estimates for home builders this week. Then there's lumber, which has tumbled about 50 percent since mid-May. Lower lumber prices have "certainly helped" ease some of the concern around housing affordability, Robert Dietz, the chief economist at the National Association of Home Builders, told Bloomberg News. At one point, the cost of framing lumber was up 63 percent from the start of 2017, adding about $8,000 to the price of a single-family home, according to Dietz. "For the moment, this is good news for builders and good news for home buyers," he said.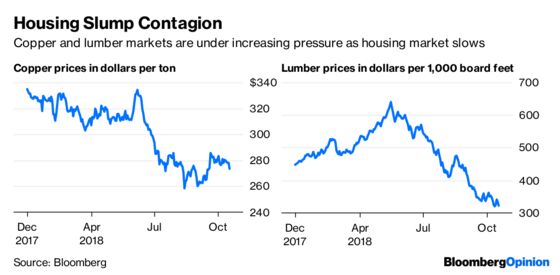 TEA LEAVES
China is poised to release its report on third-quarter gross domestic product, and the consensus is the economy expanded 6.6 percent from a year earlier. That's about the same pace it has expanded every quarter since the start of 2016, triggering a lot of snickering among market participants about how the numbers are rigged. Regardless of whether that's true or not, it's worth knowing what to look for when the report is released. At the top of the list has to be trade data. As Bloomberg News reports, the trade war with the U.S. may actually be boosting Chinese shipments. The unexpected acceleration of export growth in September should increase the contribution net exports make to the expansion in the quarter. The stronger-than-expected performance can probably be attributed to front-loading of shipments to the U.S. ahead of implementation of the new tariffs, according to Betty Wang, a senior economist at Australia and New Zealand Banking Group Ltd in Hong Kong. But industrial production data show growth in the manufacturing of such products has been dropping fast since the middle of last year. The growth rate in August from a year earlier declined to 3.3 percent, the lowest in 12 years of data.
This column does not necessarily reflect the opinion of the editorial board or Bloomberg LP and its owners.
Robert Burgess is an editor for Bloomberg Opinion. He is the former global executive editor in charge of financial markets for Bloomberg News. As managing editor, he led the company's news coverage of credit markets during the global financial crisis.