Steepening Yield Curve Shows Market Isn't Waiting for Fed to Act
(Bloomberg) -- The steepening U.S. yield curve shows bond traders have concluded that the case for Federal Reserve rate cuts is only strengthening, even as top policy makers signal they're not yet ready to act.
Futures reflected more than 70 basis points of easing in 2019 at one point Wednesday, a move that helped push key portions of the curve to their widest since at least November. Bets on steepening -- historically the darling trade during easing cycles -- are building amid signs of weakness in U.S. manufacturing and the labor market, with the trade war only threatening to intensify. Add tepid inflation to the mix, and investors see the basis for the Fed's first rate cut since 2008.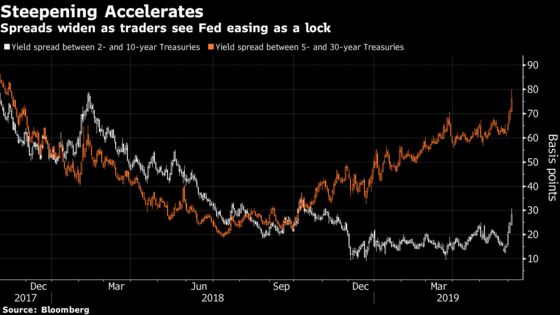 Traders aren't waiting for officials to come around to their view. The spread between 5- and 30-year yields has reached the steepest since 2017. NatWest Markets sees it increasing to 90 basis points by year-end, from about 77 now. The 2- to 10-year gap is blowing out as well. Ten-year yields, at around 2.12%, are down from about 2.7% at the start of the year, but two-year rates have dropped by an even bigger margin.
Here are the themes that investors are focusing on as they add to wagers that policy makers will slash borrowing costs before the year is out:
"Inflation has continued to disappoint," said Gemma Wright-Casparius, a senior money manager at Vanguard Group, during the Bloomberg Invest summit in New York on Tuesday.
About "2% on the 10-year yield is breathtaking," she said. "But it really tells you how much the market is forward-looking and beginning to price in a series of interest-rate cuts predicated on inflation missing the Fed's target, and the risk of a more significant global slowdown because of the trade uncertainties."
The central bank's favored measure of price pressures rose 1.5% in the year through April, well below the Fed's 2% target. The outlook reflected in inflation-linked Treasuries shows traders see annual growth below 2% for consumer prices for the next 30 years.
Wright-Casparius and Pacific Investment Management Co.'s Marc Seidner -- who also spoke at the summit -- align in saying steepening will continue in the leadup to an eventual Fed shift toward easing.
U.S. manufacturing has cooled, and a gauge of private payrolls for May just came in at the weakest since 2010. To be sure, a measure of the service industry for last month beat forecasts. That leaves investors on alert for further signs that the trade standoff with China is weighing on the economy as President Donald Trump considers additional tariffs.
A closely watched slice of the curve favored as a recession signal remains inverted: Yields on 10-year notes were about 23 basis points below 3-month rates, near the deepest inversion since 2007.
"There is no question that growth is already slowing," said Peter Boockvar, chief investment officer at Bleakley Financial Group. "The bond market is telling you that and the data is telling you that.''
Goldman Sachs Group Inc.'s Jan Hatzius said in a note Wednesday that weak private employment suggests downside potential for Friday's non-farm jobs figures. While rate cuts aren't the bank's base case, he wrote that the risks have risen and he'll reassess after the payrolls data.
Trump's threat to slap 5% duties on all Mexican imports on June 10 unless Mexico reins in migration into the U.S. was another trigger for many Fed watchers. It led them to predict the central bank will lower rates as insurance against growth headwinds.
The steepening move faded a bit Wednesday after White House trade adviser Peter Navarro said in an interview with CNN that Mexican officials still have time to prevent the tariffs from taking effect. Separately, Republican Senator Chuck Grassley said the two sides may be able to reach a deal.
This week, research firm Evercore ISI said its base case is that the Fed will "reluctantly cut rates three times starting in September in a mini-easing cycle" amid the trade conflict.
"As long as the Fed does not suddenly discover that it has slipped behind the curve, we would expect the FOMC to move in quarter-point increments, not 50bp or more to avoid signaling alarm," Evercore's Krishna Guha and Ernie Tedeschi wrote in a note Monday.