How the States Jobs Picture Has Changed Under Trump
(Bloomberg) -- Massachusetts leads in putting folks back to work since President Trump took office in Jan. 2017, according to a review of the last state employment report that the U.S. Bureau of Labor Statistics will release before the midterm elections.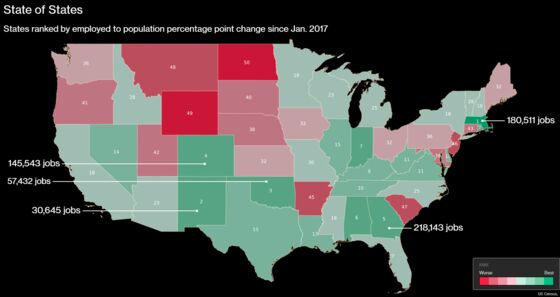 The percentage point change in the employment to civilian population ratio, a gauge used here to determine the relative increase of each state's share of residents who have jobs, as of Sept. 2018, increased the most in Massachusetts, by 2.4 percentage points, since Jan. 2017 to 65.4 percent.
New Mexico and Oklahoma tied for second with a 1.5 percentage point increase each. Rounding out top five were Colorado and Georgia.
In an emailed comment, New Mexico Economic Development Secretary Matt Geisel, said, economic growth in New Mexico "is leading the nation, our unemployment is at its lowest point in a decade, and we have a $2 billion budget surplus - the largest in New Mexico history." 
Twelve states have added more than 100,000 jobs over the last 20 months. Among the largest, as of Sept. 2018, Texas increased headcount by 478,322, while the number of those unemployed fell by 119,011. California was a close second with an increase of the total employed by 387,557 and decrease of unemployed by 199,588.
In five states, less people were employed last month compared to Jan. 2017. New Jersey led the pack with 14,040 less workers, followed by North Dakota (-9,939), Wyoming (-8,404), Connecticut (-5,603), and Alaska (-3,972).
Meanwhile, the most challenged states, as measured by labor force participation, a conventional ratio often used to gauge the share of working-age population who are either working or if unemployed, are actively looking to be employed again, are North Dakota, Wyoming, South Carolina, Montana and New Jersey. The ratio fell a full percentage point in New Jersey -- from 63.3 percent in Jan. 2017 to 62.3 percent last month.
The unemployment rates in six states, including the two largest, set new series lows last month in data going back to 1976. Record lows were seen in Arkansas (3.5 percent), California (4.1 percent), Idaho (2.7 percent), South Carolina (3.3 percent), Texas (3.8 percent), and Washington (4.4 percent).