Stark Differences in U.S. Life Expectancy: Demographic Trends
(Bloomberg) -- Residents of Friendship Heights, Maryland, have the second-longest life span of any neighborhood in America: about 96.1 years. Nine miles away, in Anacostia's Barry Farm, the average is 63.2 years.
These two areas within five miles of the White House are a stark example of how average life expectancy can vary more than 30 years in relatively small U.S. geographic regions, according to data released recently by the National Center for Health Statistics.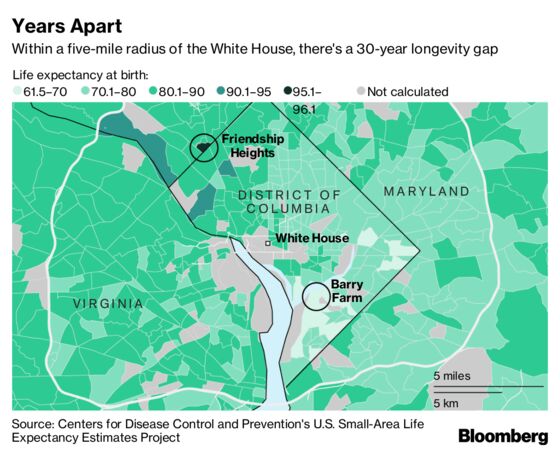 Many factors influence how long people live, including income and access to high-quality health care, nutritious food, clean water and air, good schools, affordable housing and jobs.
Maryland, New York and Oklahoma are the states with the greatest differences. One neighborhood in Albany, the state capital of New York, has an average life expectancy of 60.4 years, while the average in Harrison, about 150 miles to the south, is just shy of 93 years.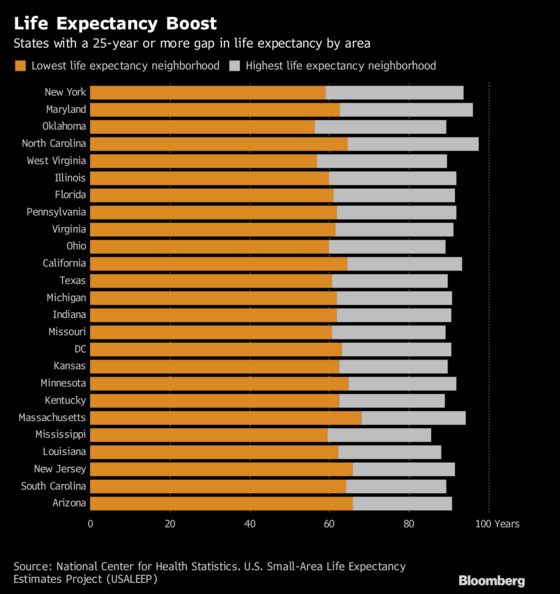 For life expectancy by census-tract calculator, click HERE.
Census tracts are neighborhood-sized geographic subdivisions with an average of about 4,000 people. Neighborhood-level data for Maine and Wisconsin wasn't available.
Average life expectancy in the U.S. was 78.6 years in 2016, according to the Centers for Disease Control. Life expectancy at birth decreased for the second consecutive year in 2016; between 1900 and 2014, the average rose to 78.9 years from 47.3. Males born in 2016 can expect to live to 76.1 years compared with 81.1 for women.