StanChart's Doing Fine (But for the Fines)
(Bloomberg Opinion) -- Bill Winters has scored on many fronts this year, from handsome growth in Asia to squeezing more juice from his deposit franchise. The Standard Chartered Plc CEO also got a lift from rising interest rates and steadily improving asset quality. 
Don't be surprised, though, if Winters's track record continues to be marred by the one thing he's found hard to fix: StanChart's tendency to annoy regulators.
StanChart, like its bigger and similarly Asia-focused rival HSBC Group Plc, delivered in the latest reporting period: Third-quarter underlying pretax profit was $1.07 billion, ahead of consensus estimates of $976 million. The meat-and-potatoes cash-management and custody business fared well in the first nine months of the year, aided by higher profitability in retail deposits, and to a lesser extent in wealth management, Winters's hobby horse.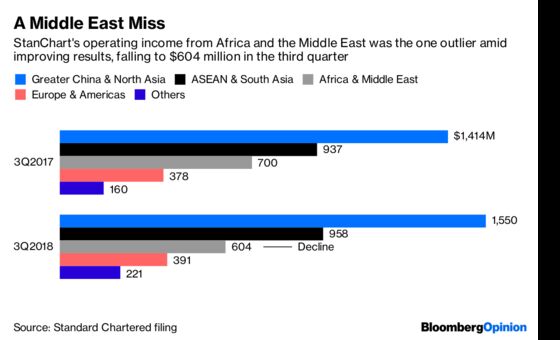 High credit costs, a problem Winters inherited when he took over in June 2015, shrank dramatically in 2018. Restructuring expenses also faded. All that, plus a 5 basis-point improvement in the net interest margin, allowed the CEO to reach a return on equity of 6.6 percent – a jump of 1.5 percentage points from the same nine-month period last year.
After years of excessive risk-taking under Peter Sands, the previous chief, StanChart is well capitalized now: The common Tier 1 equity ratio is 14.5 percent, against 13.6 percent last year.
But investors, who declined to cheer the turnaround and the restoration of dividends this year, are still unlikely to be satisfied. For good reason: StanChart just can't seem to shake off the regulatory fines from pre-Winters days. At a little less than $1 billion, those burdens have crept higher from last year. Potential penalties of around $1.5 billion from the U.S. authorities, for allowing customers to violate Iran sanctions a decade ago, mean there's little promise of an early respite. 
The shares kept falling even after StanChart posted a consensus-beating 34 percent gain in first-half pretax profit in August. The bank's market value has now almost halved during Winters's tenure, from $42 billion to $22 billion.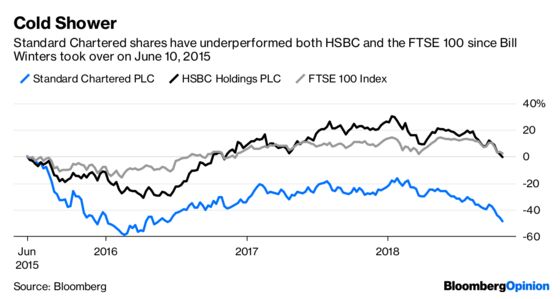 Then there's geopolitics. Amid a tariff war between China and the U.S., the bank's trade-finance revenue fell $8 million, a second straight quarterly decline. (Quarter-on-quarter comparisons are even more unflattering for retail products and the financial markets division.)
The Middle East, a StanChart bastion, also looks shaky, especially if a Saudi Arabian role in the murder of journalist Jamal Khashoggi casts a long-term shadow over the region. Meanwhile, Singapore banks such as DBS Group Holdings Ltd. are ratcheting up competition by aggressively embracing technology, while the key Hong Kong market will be more keenly contested with the onset of virtual banks.
StanChart needs something more than wider operating jaws – industry jargon for income growing faster than costs. Maybe the solution is to be gobbled up by a franchise big enough to stomach giant fines. But that, as we noted when rumors of a Barclays Plc takeover surfaced in May, has been a three-decade-long yearning that never found consummation.
This column does not necessarily reflect the opinion of the editorial board or Bloomberg LP and its owners.
Andy Mukherjee is a Bloomberg Opinion columnist covering industrial companies and financial services. He previously was a columnist for Reuters Breakingviews. He has also worked for the Straits Times, ET NOW and Bloomberg News.
Nisha Gopalan is a Bloomberg Opinion columnist covering deals and banking. She previously worked for the Wall Street Journal and Dow Jones as an editor and a reporter.