StanChart May Yet See 'Earnings Kicker' From India Bad Loan Pile
(Bloomberg) -- Standard Chartered Plc has the highest proportion of bad loans on its books of any of the top foreign banks in India, a reflection of its decision to hang on to a legacy of soured lending to local infrastructure and energy projects in the hope of repayment.
The Indian unit of the London-based lender had a gross non-performing asset ratio of 10.6 percent in the quarter ended Sept. 30, nearly triple the level of DBS Group Holdings Ltd., according to data received from the Reserve Bank of India in response to a Right to Information request.
Because Standard Chartered has taken provisions against the bulk of the bad loans, given out before the current Chief Executive Officer Bill Winters took over in June 2015, any resolution should flow directly to the bottom line.
"The stressed asset pile remains high in Standard Chartered's India unit as they are still betting on recoveries of these written-off legacy assets," said Kranthi Bathini, an analyst at WealthMills Securities. "If they manage to recover at least part of this soon, it will give a good earnings kicker."
The bank's gross bad loans amounted to 81.6 billion rupees ($1.2 billion), according to the RBI data. On a net basis, after taking provisions into account, non-performing assets amounted to only 0.31 percent of net advances, the RBI data showed.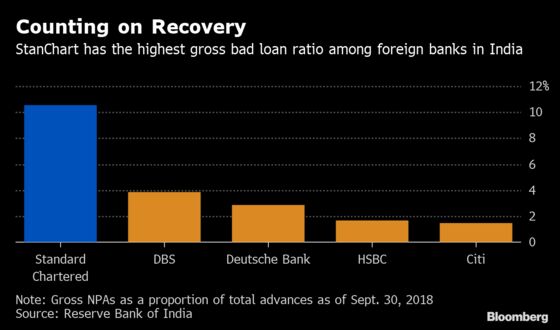 The bank evaluates all options and arrives at a final decision based on the best possible business outcome, a Standard Chartered spokesperson said in an emailed response. "It follows a conservative provisioning policy with regard to stressed assets."
In contrast, DBS decided to unload much of its bad loan legacy in India, cutting the debt pile by about 40 percent in a year by selling non-performing assets, the Singapore-based bank said in 2015. That was a deliberate attempt to put the episode behind it, according to Chief Executive Officer Piyush Gupta.
"It takes a lot of effort to manage a bad book," Gupta said in a recent interview. "You can't keep your management team burdened down with the problems of the past. It's much more important to build a winning psychology, put the problems behind you and get on with business."
Other foreign lenders in India brought down their gross bad loan ratios by selling loans at deep haircuts, Bathini said.
Standard Chartered doesn't disclose the names of the Indian companies which owe it money. But court documents show it is seeking repayment on 35.6 billion rupees of loans to Essar Steel India Ltd. and 6 billion rupees from food manufacturer Ruchi Soya Industries Ltd. Together, those two exposures would account for more than half of the bank's total bad loans.
Some recovery is likely on the accounts. The world's largest steelmaker ArcelorMittal offered to pay 420 billion rupees to Essar's financial creditors; while Patanjali Ayurveda Ltd. is reported to have made a similar offer of 40.7 billion rupees for Ruchi Soya.