Spanish Premier Running Out of Options Amid Reports of Snap Vote
(Bloomberg) -- Spanish Prime Minister Pedro Sanchez's budget plans are threatening to unravel amid reports that he's considering calling a snap election for April.
After his conservative rivals staged a show of strength by bringing tens of thousands of demonstrators onto the streets of Madrid, Efe news agency reported that Sanchez is considering calling elections for April 14. A press officer for the premier said the government is focused on getting its budget passed this week.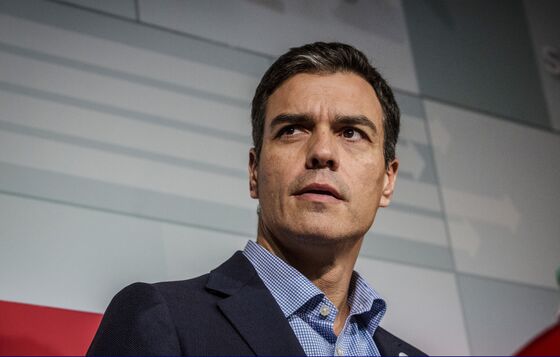 Protesters in the heart of the Spanish capital on Sunday were demanding an election and accused the prime minister of being soft in talks with Catalan separatists. They waved Spanish flags and shouted "Long Live the Constitution, Long Live Spain."
Sanchez is heading into a critical week that could shape the rest of his premiership. He is struggling to win support from Catalan parties he needs to pass his budget when it goes to a vote in parliament Wednesday. The budget showdown coincides with the start of the trial on Tuesday of the separatists who led the 2017 push for independence. Catalan lawmakers are wary of supporting his Socialist government while judges are trying their colleagues.
"This week will be crucial to see if there are elections or not, depending on whether Pedro Sanchez can move ahead with the budget," said Antonio Barroso, an analyst at Teneo Intelligence.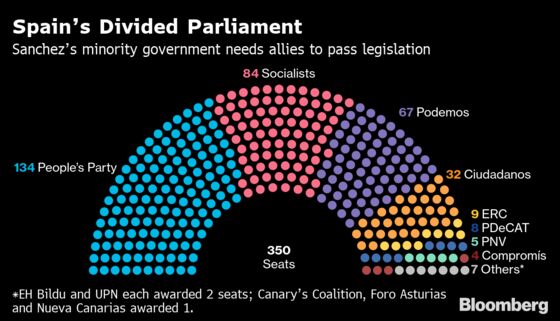 Sanchez's woes reflect the broader uncertainty sweeping Europe at a time of geopolitical shifts. Europe's de facto leader, German Chancellor Angela Merkel, is seeing her powers wane in Berlin, while violent protests in France are undermining President Emmanuel Macron and highlight a surge in populism that will shape European Parliament elections in May.
Despite the legislature being paralyzed by ideological divides for more than three years, Spain has been a source of stability for the EU, delivering one of the strongest growth rates and seeing little of the euroskeptic nationalism that has roiled France, Italy and even Germany.
The yield gap between the 10-year sovereign bonds of Spain and Germany widened on speculation that Spain could call early elections. The spread increased 3 basis points to 115 basis points at 1 p.m. in Madrid.
Failure to pass his budget would pile more pressure on Sanchez, who ousted the previous People's Party government with a no-confidence vote in June.
Although he's struggling for votes in Parliament, Sanchez has used his executive powers to push ahead with a progressive agenda, introducing a 22 percent increase in the minimum wage at the start of this year. With the economy still holding up despite a slowdown in the rest of Europe, he's aiming to stave off an election long enough for those policies to cement his support among poorer Spaniards.
PP leader Pablo Casado said Monday that Sanchez will have to call an election before the summer if he fails to pass his budget and urged his rival to hold the national ballot at the same time as the European vote.
Sanchez's minority government relies on 17 pro-independence Catalan lawmakers. The looming rebellion trial of leaders of the 2017 referendum was already straining his ties with those allies when Sanchez abandoned the Catalan autonomy talks. Sanchez pulled out because the Catalans refused to drop demands for a referendum on independence, which the government maintains violates the constitution, Deputy Prime Minister Carmen Calvo said.
"Politics makes for some strange bedfellows," Sanchez said on Twitter. "The separatists and the right are coming together to defeat the 2019 budget."