Spanish Jobless Claims Surge for Second Month in April
The number of Spaniards filing for jobless claims surged for a second month, underscoring the damage from the coronavirus crisis on an already fragile labor market.
Claims rose by 282,891, the biggest April increase on record, the Labor Ministry said on Tuesday. Most were in the services sector.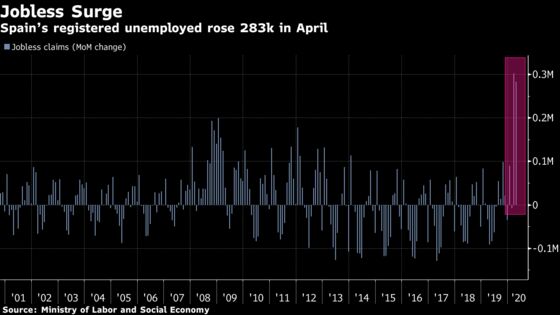 Claims have now risen by almost 600,000 in the past two months, a stark reversal from the traditional pattern. March and April typically mark the beginning of the summer tourist season and herald robust job creation.
The number in April was lower than in March, and the government said the increase in unemployment moderated toward the end of the month. But economists warn it will probably take years to undo the damage the pandemic has inflicted.
The April figures don't include the millions of workers who have been temporarily laid off. The government expects those people to get their jobs back as the country's lockdown is slowly lifted in coming weeks.
Spain has one of the highest rates of temporary contracts in Europe. That means tens of thousands of Spaniards spend much of their professional lives jumping from one short-term position to another, going in and out of unemployment depending on the season and the economy. Those workers have borne the brunt of the lockdown, which started in mid-March.
When the coronavirus crisis hit, the country's labor market was already troubled. The jobless rate was close to 14%, among the highest in the developed world. Spain's central bank expects that rate to spike to as high as 22% by the end of the year and then slowly inch back down.