Spanish Economy Proves Eurozone Brightspot as Recovery Holds
(Bloomberg) -- Spain's economy maintained its solid pace of expansion in the third quarter, exceeding growth in the euro area.
The 0.6 percent expansion was three times the pace of the euro-zone average, which slowed sharply in the third quarter. Italy's economy stagnated, while growth in Germany may also have stalled. Spain's reading was in line with the median forecast of economists.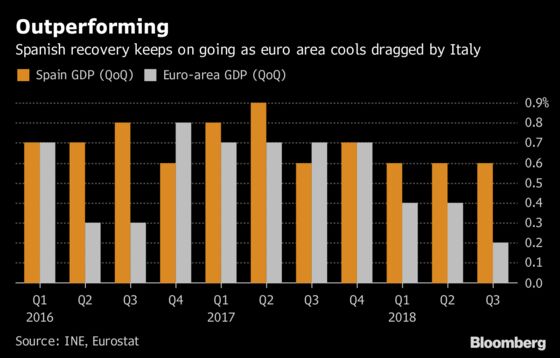 While the report is preliminary, a breakdown of components showed the quarterly pace of expansion was mostly led by domestic demand, with exports proving a drag on growth.
But there are signs the economy is cooling, and the Bank of Spain has warned of downside risks from protectionism and emerging-market turmoil. The Spanish government sees the economy expanding 2.6 percent in 2018 after three consecutive years of at least 3 percent growth.
Domestically, there's a risk of political paralysis as the minority administration led by Prime Minister Pedro Sanchez struggles to approve new reforms. The Socialist leader is finding it hard to push through plans to ease fiscal consolidation, and is facing scrutiny from Brussels over his spending plans.
Read more:
Euro-Area Economy's Bumpy 2018 Keeps ECB on Edge About Risks
REACT: Beyond Temporary Factors, Growth May Be Slowing How
How Draghi's Economic View Stacks Up Against the Executive Suite
In a letter this month, the European Commission warned of a fiscal slippage and asked for more details on the new tax plan for 2019. The Spanish government downplayed the implications of the request, and Economy Minister Nadia Calvino said last week the bill will be cleared by the EU. Despite the hurdles, Sanchez continues to lead in polls, with the most recent survey giving the Socialists a 13-point advantage over the People's Party.