Spain to Allocate Part of Remaining Loan Guarantees to Tourism
Spain will allocate a portion of the remaining budget from its state-backed loan program to its beleaguered tourism industry to help it recover from the impact of the coronavirus, according to people familiar with the information.
Under the program announced in March, the government agreed to provide up to 100 billion euros ($114 billion) in guarantees for loans to companies affected by the pandemic. So far, though, it hasn't allocated the aid to specific industries -- as it will start to do now with the assistance targeted at tourism, the people said.
The funding for the guarantees comes from a remaining pot of 15.5 billion euros via the state lender Instituto de Credito Oficial that still hasn't been approved for banks to farm out to companies. ICO is guaranteeing 80% of loans to small and medium-sized enterprises issued under the program. It backs 70% of loans for larger companies and 60% for debt rollovers.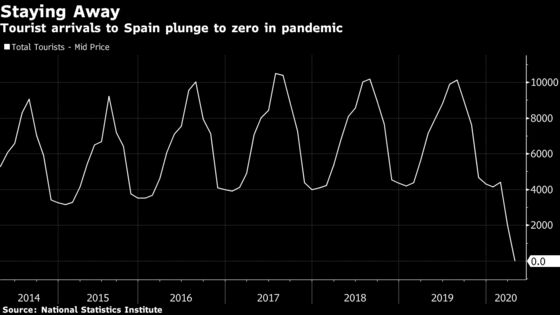 Tourism accounts for 12% of Spain's gross domestic product. The industry has suffered a torrid few months, first with the bankruptcy of Thomas Cook Group UK Limited in September and then in March with the government-ordered lockdown that shuttered borders and restricted internal travel. Spain is the second-biggest destination for international tourists in the world after France, according to the World Tourism Organization.
Tourism companies have received 10.1 billion euros, or 20%, of the ICO-backed loans issued so far.
Spain is also working on a system of sanitary protocols, similar to the Blue Flag initiative for clean beaches, to ensure that tourism hotspots carry out measures to ensure they're free of the virus. The aim is to ensure tourists that Spain is a safe place to visit, the people said.