Spanish Sovereign Bond Draws Record 47 Billion-Euro Orders
(Bloomberg) -- Spain got record orders of about 47 billion euros ($53 billion) in 10-year sovereign bond sale, as investors clamor for the extra yield offered by periphery euro-area debt.
The offering went "very well," Economy Minister Nadia Calvino told reporters in Brussels after a meeting of European Union finance ministers. She confirmed the record orders and highlighted growing interest from Asia.
The 10-billion euro sale was set to price at 65 basis points above midswaps, about five basis points tighter than initial guidance, according to a person familiar with the matter, who asked not to be identified as they aren't authorized to speak about it publicly.
Investors have flocked to periphery euro-area bond sales this month, including an Italian note, as they hunt for yield in markets still distorted by super-low interest rates. Spain's Socialist-led government has also pledged to drive down debt -- even amid slower growth and increased spending -- helping the country avoid the surge in bond yields suffered by Italy last year following a populist election victory.
Orders for the Spanish bond are "impressive," said Antoine Bouvet, a rates strategist at Mizuho International Plc. Investor bids peaked at more than 50 billion euros earlier in the book-building process, a person with knowledge of the sale said.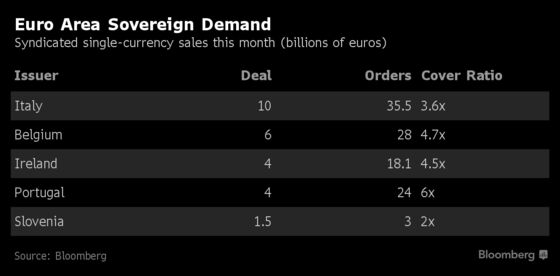 Italy's 35.5 billion-euro orderbook let the country trim as much as four basis points off pricing in its 10-billion euro sale of 2035 notes last week. That came after Portugal priced a sale tighter than a comparable deal a year earlier, bucking a marketwide surge in spreads. The country was upgraded to investment grade by Moody's Investors Service last year.
Greece could also offer a medium-term bond soon, according to Danske Bank A/S analysts.
Strong periphery demand has extended beyond sovereign deals. Italian insurer Assicurazioni Generali SpA got more than 4.25 billion euros of offers for a 500 million-euro sale on Monday. A Telecom Italia SpA offering earlier in the month drew more than 3.3 billion euros of bids.
The 10-year Spanish yield spread to Germany has narrowed seven basis points since the start of the year to around 110 basis points, and it recently touched a two-month low. The spread jumped last year as contagion spilled over from Italy's political and budget woes.