Spain's Surprise Growth Revision Casts Doubt on Stellar Rebound
Spain said the economy grew at less than half the pace previously estimated in the second quarter, raising questions about the strength of one of western Europe's leading recoveries and igniting the ire of analysts. 
Spain's official statistics agency said gross domestic product grew 1.1% between April and June, down from the 2.8% pace previously estimated. It cited difficulties in measuring output during the Covid-19 pandemic.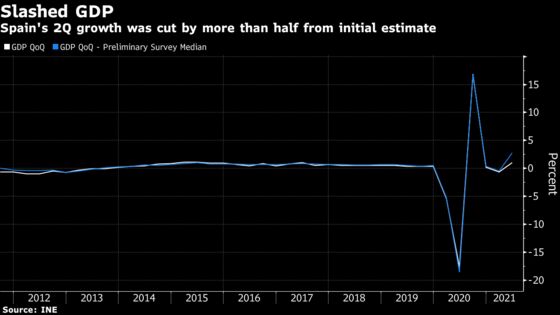 The sharp revision is likely to spark a flurry of downgrades by professional economists who had expected Spain to record its fastest expansion in more than four decades this year. It could also turn into a political headache for Primer Minister Pedro Sanchez as he seeks approval for next year's budget.
"With revisions of this magnitude, it is impossible to make forecasts, and all these numbers go to waste," Angel Talavera of Oxford Economics, said on Twitter after predicting an expansion of up to 6.5% this year. "Estimates for this year will go down without a doubt."
The statistics agency said the revision was due to a historical review of GDP series back from 2018 along with a lower than expected reading from corporate sales. It caught official economists off guard as well.
Earlier this week, the Bank of Spain raised its economy growth estimates to 6.3% while the economy ministry maintained its growth forecast at 6.5%. The Organization for Economic Cooperation & Development expected Spain to grow 6.8% in 2021. 
A slower comeback from the sharpest contraction in the euro zone last year and a surge in consumer prices could erode political support for Sanchez as he negotiates an end to Spain's furlough program and the budget for 2022. Sanchez, who predicted spectacular growth this year, has clashed with its junior government partner over the budget, which was approved in 2020 for the first time in three years.