South Korean Export Strength Points to Robust Global Demand
(Bloomberg) -- Supply Lines is a daily newsletter that tracks trade and supply chains disrupted by the pandemic. Sign up here.
South Korea's exports rose more than expected in June, continuing a rally that adds to evidence the global recovery is firmly underway.
Overseas shipments increased 39.7% from a year earlier, the trade ministry said Thursday, compared with economists' forecasts for a 33.8% increase. Total semiconductor shipments increased by more than a third. Separate data showed a further acceleration in factory activity and growing optimism among manufacturers.
Exports posted hefty gains even as favorable base effects from last year's pandemic slump have started to fade. Shipments plunged by almost a quarter in May 2020, but narrowed their declines from June. The better-than-expected performance bolsters optimism that exports will reach a record this year, underpinning Korea's recovery from the pandemic.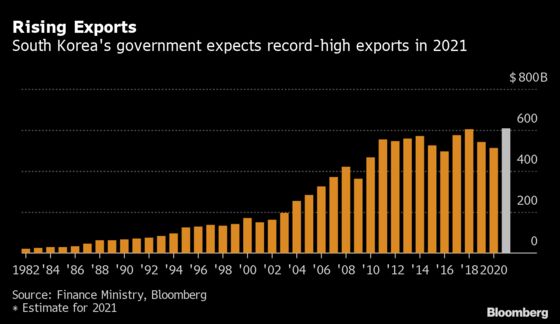 Korea's exports are seen as a barometer of international demand as the country manufactures essential items such as chips, displays and refined oil for the world economy.
A faster-than-expected global recovery, rising commodity prices that also push up Korea's revenue and an increase in demand for new types of technology such as rechargeable batteries and system semiconductors will contribute to what is likely to be record shipments this year, according to Cho Chuel, an analyst at the Korea Institute for Industrial Economics & Trade.
The government expects exports to rise 18.5% this year to reach an annual record of $607.5 billion, helping the economy expand 4.2%. It sees the pace of gains easing after peaking in the second quarter.
Semiconductor sales will probably generate more than $100 billion this year, according to a separate forecast by the Korea International Trade Association. A survey of exporters by the association shows optimism for the third-quarter outlook has fallen compared to the previous three months, though still at levels that indicate improvement.
Overall exports to the U.S. rose 51.9%, while shipments to China gained 14.3% and to the European Union by 65.3%. Total automobile shipments increased 62.5% in June from a year earlier, while sales of automobile parts jumped 108.2%.
Overall imports rose 40.7% from a year earlier, leaving a trade surplus of $4.4 billion.
The IHS Markit manufacturing purchasing managers' index for June climbed to 53.9, from 53.7 the previous month.