Korean Jobless Rises For Fifth Month Amid Manufacturing Woes
(Bloomberg) -- South Korea's unemployment rate rose for a fifth month in January, casting a cloud over government efforts to stimulate the job market as the economy braces for fallout from China's coronavirus outbreak.
The jobless rate climbed to 4%, increasing from a revised 3.7% in December, government data showed Wednesday. Economists had forecast a rate of 3.8%.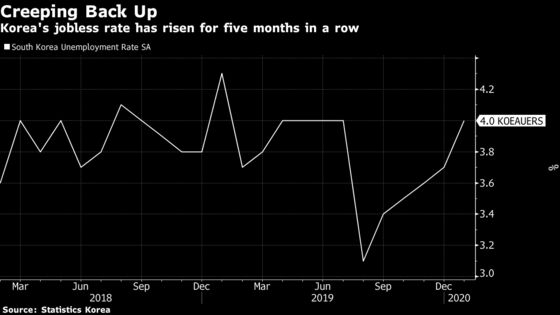 Rising unemployment gives the Bank of Korea one more thing to think about as the central bank monitors the impact of the coronavirus outbreak in China, South Korea's biggest trading partner.
Speculation is rising that the bank may cut its record-low interest rates to help shield the export-dependent economy as South Korea's own coronavirus cases rise above 25. The bank meets for a rate decision on Feb. 27.
The return of unemployment to the 4% rate may further indicate that higher levels of unemployment are becoming entrenched as the economy strains to cope with slumping exports and higher wages. South Korea's unemployment rate hovered at or above 4% for the longest spell in almost two decades during the summer of 2019.
Wednesday's data showed employment among people in their forties fell 0.2% year-on-year. The number of jobs in manufacturing, a primary engine of South Korea's economic growth, increased 0.2%, a small advance compared with many other sectors.