South Korea's Manufacturing Powers Ahead Even as China Slows
(Bloomberg) -- South Korea's manufacturing activity expanded at the fastest pace in more than a decade in February, even as the Lunar New Holiday across Asia cut demand and spurred a slowdown in China.
A report Tuesday from IHS Markit showed a purchasing managers' index for Korean manufacturing jumped to 55.3 last month, rising further above the 50-threshold that separates expansion and contraction to mark the highest reading since April 2020.
The figure adds to the optimistic outlook for Korea's economy, after a Monday release showed exports continued to expand for a fourth straight month. With Korean companies deeply engaged in supply chains, buoyant factory activity in the Asian nation bodes well for global recovery.
South Korean Exports Rise Again on Global Chip Demand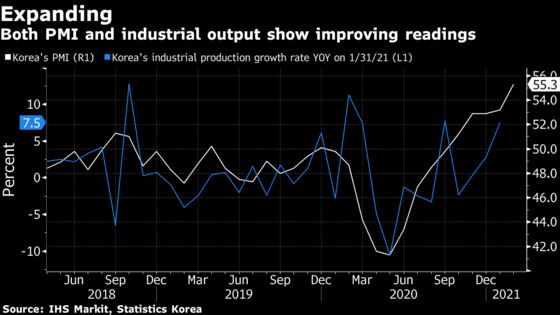 Also supporting Korea's recovery is a deepening shortage of semiconductors. Soaring demand and tight supply has fueled the rise of memory chips produced by companies like Samsung Electronics Co.. The launch of new models in smartphones and the auto sector are further livening up manufacturing activity.
A separate report Tuesday from Korea's statistics office showed industrial output grew 7.5% in January from a year earlier, beating economists' consensus of 5.9% in a Bloomberg survey. Output still fell 1.6% from the previous month, with the office partly attributing the monthly drop to a high base in December.