South Korea's Inflation Slows to Record Low in 2019
(Bloomberg) -- South Korea's inflation came in at 0.4% in 2019, the weakest since data going back to 1966, as uncertainties from a trade war and a slowdown in the global tech cycle hit consumer demand.
In December, consumer prices rose 0.7% from a year earlier, according to the statistical office. That compares with the median estimate of a 0.6% rise in a Bloomberg survey of economists and a 0.2% gain in November.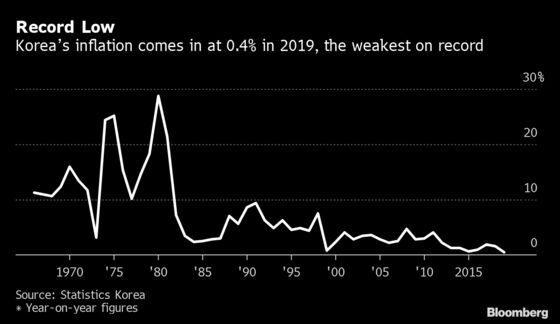 South Korea has been grappling with inflation that's undershot the 2% target this year, with the central bank's two rate cuts doing little to boost prices. While consumer-price growth hovering near zero have spurred concerns about deflation risks, policy makers have dismissed such worries as excessive, blaming higher-than-usual food prices last year.
South Korea's economy is expected to grow 1.9% this year, the slowest pace in a decade, according to economists surveyed by Bloomberg. Falling exports have forced both the government and the central bank to slash their forecasts to 2%.
South Korea's consumer prices fell for the first time on record in September and returned to growth only in November.
The Bank of Korea expects inflation to pick up gradually to 1% in 2020. In its 2020 policy statement, the central bank pledged to keep policy accommodative as inflationary pressure from the demand side is likely to to remain weak.
South Korea's aging population and falling potential growth are two challenges that raise the risk of structural deflation in the long term.
"Korea has entered disinflation and there's a worry that time is ticking before that morphs into deflation," said Ahn Dong-hyun, a professor of economics at Seoul National University. "The economy is losing its dynamics, which leads to low consumption and investment, weakening inflation."
Government's welfare policy worked to push inflation lower in 2019, but "a more significant factor was likely depressed demand due to an unfriendly export environment and the electronics down-cycle", Park Chong-hoon, an economist at Standard Chartered Bank in Seoul, wrote before the release. This "leads us to believe CPI inflation is not likely to pick up in 2020," Park wrote.
Bank of Korea Warns Aging Population Threatens Inflation Efforts
Compared with the previous month, consumer prices rose 0.2% in December
Core inflation year-on-year was 0.9% in 2019, and 0.7% for Decembe
What Bloomberg's Economist Says

"Muted inflationary pressures underscore slack in the economy. That should keep the Bank of Korea's stance accommodative. But low policy ammunition means further rate cuts may prove difficult to make. Our baseline forecast is for the central bank to remain on hold through 2020."
-Justin Jimenez, economist